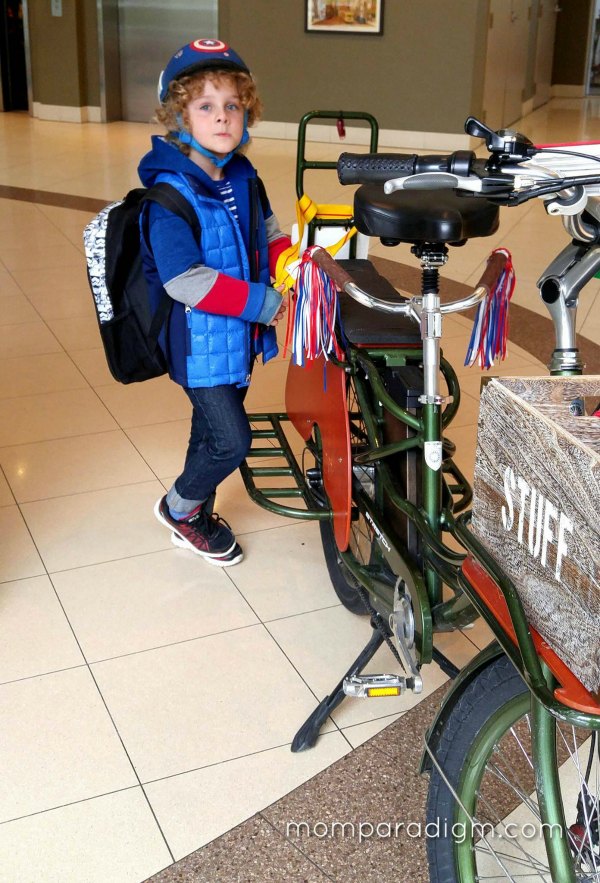 Back to School, Back to Commuting by E-Bike
It's the first day of school and both my son and I were a bit nervous for different reasons. He's concerned about fitting in and finding new friends when he goes back to school. Poor little dude. I know he'll be OK though. He was happy to see me after his one hour day today and quick to point out that he LOVES school.
I'm more concerned about his physical safety these days after he broke his arm at a local playground. The past couple of weeks hasn't been a lot of fun for him as he was born to climb and now has to stay away from the swings and monkey bars until the healing is done. On the rare occasions when we walk to school we usually stop at every playground on the way. Not fun when you've got a cast on your arm and are chasing the bell.
Commuting with streamers flying
To make our commute both fun and speedy we purchased our now beloved Pedego Stretch last year for the trek to Kindergarten. When we started out OLM wasn't tall enough to reach the running boards so I fashioned a couple of seatbelts out of luggage straps which kept him secured. As he got a bit and taller and more confident he was able to sit more forward and hold onto the handlebars which are pretty cool with the streamers flying.
Riding the e-bike gives me options in how much effort I want to exert on the fifteen uphill blocks of our commute, a nice treat when I've not had my morning coffee.
It also allows me to be his eyes on the road. When I have to remind him to look both ways for fifteen blocks it becomes tedious, and there's always the risk he's not paying attention. So riding up is not only safer, it makes for a fun commute especially when the wireless speaker is pumping out Mr. Hurricane by Beast.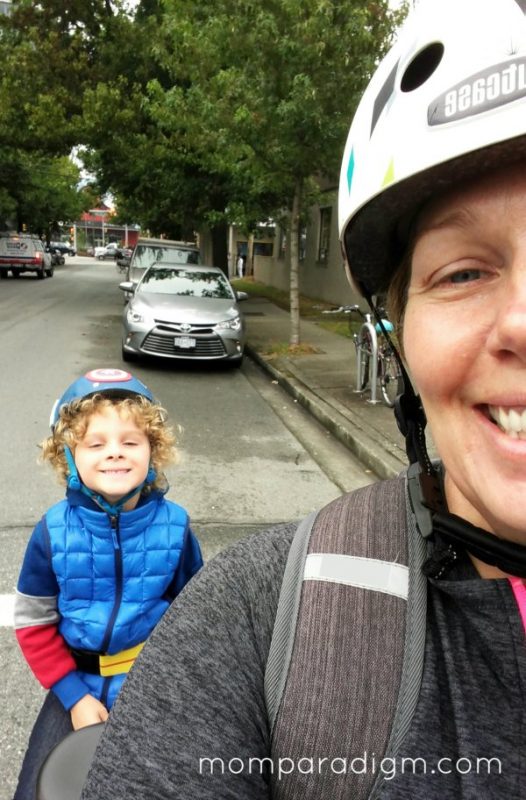 Safety on the road
With one hand out of commission at the start of grade 1 though we've reverted back to the seatbelt option. And after we came inches away from being doored by a woman in her car who didn't see us coming up the hill really, really slowly…we might just keep it in place until he's at least twelve.
At least she called out "I'm so sorry!" when I turned back, unlike the asshat a few months ago who basically blamed me for not being visible. Even though traffic was stopped for the all the bikes that were passing by and on a bike route no less. I could start cussing here but I won't. No time for that.
We had a blast on the way to school today despite our close call and look forward to tomorrow. Especially because it will be his first full day on Grade 1! Hallelujah!
How are you getting to school? have you ever tried an e-bike before?
Check out pedegocanada on social to find out more!
By the way, I was not compensated for this post. I just love my e-bike! And that school is back in session!