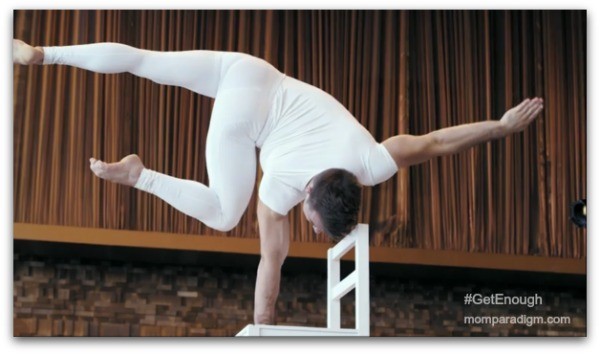 We are a dairy family and always will be. And while it's true that our stomachs are not the best equipped to deal with dairy, there are more and more options for lactose-free choices that keep us coming back for more. My favourite dairy product is yogurt these days so that is why I am sharing this article with you. Enjoy!
Dairy Farmers of Canada created a unique way to show how yogurt is part of a balanced diet
When Dairy Farmers of Canada attended The Health, Sports & Lifestyle Expo in Vancouver, they created a powerful and captivating performance to highlight the surprising benefits of yogurt, which aids in the prevention of high blood pressure.
The performance, and the film of it, were made to promote the free Get Enough Helper App, which helps people track what they eat based on recommendations from Canada's Food Guide.
In the video, we see a gymnast stacking and balancing a series of chairs in front of conference attendees. The gymnast then climbs, twists and contorts his body at seemingly impossible angles on top of the chairs, to show how far we each stretch to find balance in our day.
The performance is intensely physical and dangerous – much like high blood pressure – and encourages the audience to use the Get Enough Helper App to help the fight against high blood pressure. Each day someone uses the App, Dairy Farmers of Canada donates $1 on their behalf to the Heart & Stroke Foundation to support the fight against high blood pressure.
The performance is spellbinding, engaging and stunning, and the video shows conference attendees watching in rapt attention while enjoying complimentary yogurt parfaits and savouring the surprising health benefits of yogurt.
Have a look!

For more information go to GetEnough.ca.
I was compensated for this post but the opinions are entirely my own, as usual.