I wrote a post over on VancouverMom.ca about a weekend getaway we took last summer in Whistler. We stayed in a hostel which, surprisingly, was very clean and cozy if you like bunk beds. While I don't think hosteling is right for everyone, it certainly can be a lot of fun and an inexpensive way to get away and take in some new scenery.
If you're planning to go up to Whistler but aren't sure about bringing young children I can tell you that I felt the same way until just recently. The last time I ventured up to Whistler was on a girl's weekend getaway, long before our little monkey came into our life. Needless to say, my idea of a trip to Whistler included getting dressed up and dancing the night away without thinking about the repercussions of little to no sleep. Enough said, 'What happens in Whistler, stays in Whistler.'
Nowadays the idea of staying up all night makes me shudder. When my family heads off for a weekend getaway, I want to make sure we all get a good night's sleep so we can enjoy the adventures along the way.
HI Whistler Hostel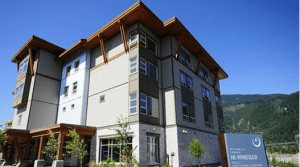 On my family's recent weekend getaway we stayed at HI Whistler Hostel in the Olympic Village, 15 minutes from Whistler Village. At first, I was reluctant. These days I prefer more creature comforts, like plush beds and luxurious surroundings. What I discovered was that I didn't mind 'roughing' it at the Whistler Hostel. The rooms were clean and cozy, and the beds comfy.
There is free wifi, an internet cafe, pool table, living area, media room, and a full on kitchen with refrigerator space for all. Everyone was kind and friendly, and it was fun to see young people from around the world. Staying at the hostel in summer was so reasonable that we didn't mind splurging a bit when we went out and about. And for a place that hosts lots of young people, it was quiet and well … perfect.
Weekend Getaway to Whistler
The only downside to being in the Hostel is that there are no restaurants in the immediate area. There is an awesome playground, a water park and lots of walking paths and undeniably gorgeous views. However, with only a small cafe serving the entire hostel, service is too casual. Every time we ordered something, the kitchen had to adapt as they were often out of ingredients. My suggestion? Have a fresh sheet and chuck the menu. Service staff is pleasant and helpful, which almost makes up for it.
One of the biggest perks for this weekend getaway was that all children under five years stay free of charge when using existing beds. Plus, while the village is a fifteen minute drive to Whistler Village and Blackcomb, you can still get free parking! Check out lots four and five. There is also frequent bus service.
Whistler Village and Blackcomb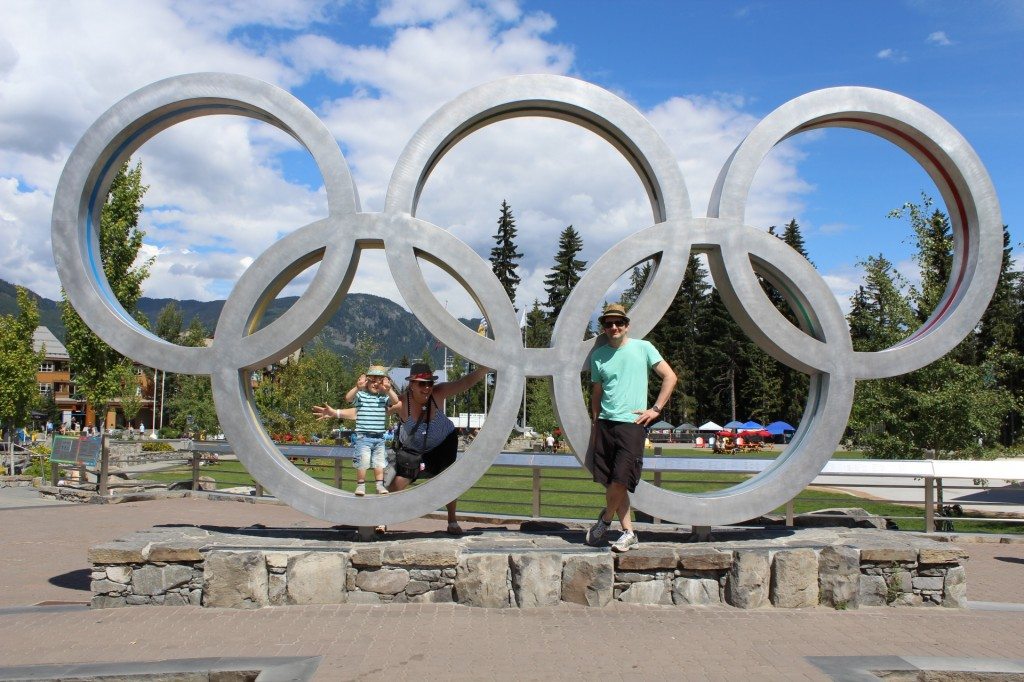 Whistler Village is always amazing but this time around for us was a different experience with our kidlet. The Olympic Village Plaza is chock full of tourists, street entertainers, kid-friendly restaurants and the playground was heaven! It kept our little guy busy for hours, and we could take in the view and grab a coffee or ice cream or what have you. The shopping is pretty great too.

Squamish Lil'wat Cultural Centre
Right beside Whistler Village is the Squamish Lil'wat Cultural Centre. We were pleasantly surprised at how beautiful it was. Lots of original carvings, handicrafts and interactive play available for kids.

We were treated to an aboriginal love song and by the granddaughter of Chief Khatsilano (spelling is modernized), Roxy Lewis. She is a gifted singer and gave us a inspiring cultural tour, told us fascinating ancient tales and invited us to make rope bracelets out of cedar as keepsakes. Check out the centre online at slcc.ca.
Kid-Friendly Fun in Whistler
Whistler Interpretive Forest Walk and Cycling Path (two minutes from the hostel)
Lots of grassy space in front of a large, free stage in Whistler Village Olympic Plaza – Adirondack chairs and picnic tables with umbrellas available
Skateboarding contests in Whistler Village
A changing schedule of entertainment in the Plaza – pick up a tourist guide at the hostel
Peak to Peak chair, which sports an amazing view of the Village and the surrounding mountains, and sometimes even bear cub sightings
Adventure Zone – a climbing adventure for kids
Rent bicycles and trailer to take the kids on a ride around Lost Lake
Taste seasonal offerings at the weekend farmers' market
Mini golf
When you're looking for a last-minute, kid-friendly weekend getaway, Whistler has so much to offer. With summer now half over, it's time to make the most of it. Visit Whistler, you'll have the time of your life, with your kids!
HI Hostels generously invited my family on a two night stay at hostel in the Olympic Village Whistler. All opinions are those of the author.
HI Hostels.ca
www.hihostels.ca/westerncanada/331/HI-Whistler.hostel | Facebook | Twitter
1035 Legacy Way, Whistler, 1.866.762.4122