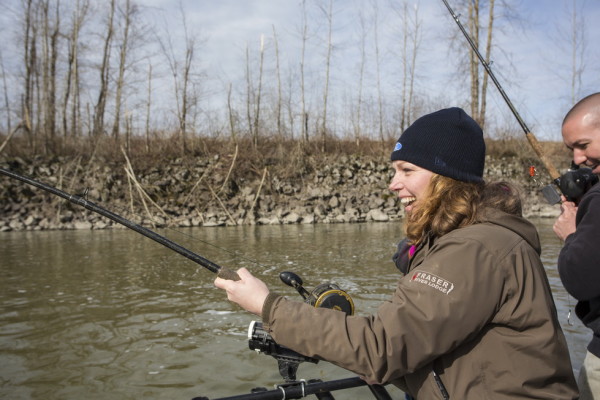 I recently joined some other fabulous bloggers for a weekend getaway and sturgeon fishing in Agassiz, BC at the Fraser River Lodge with Ford Canada. The weather couldn't have been better which made for an amazing adventure in food, cars and just a little bit of fishing. Actually as it turns out, a whole lot of fishing! I have a pretty tall tale to tell you, my friends.
But first…
Getting Back to Basics
The theme of the weekend was 'Getting Back to Basics' which is something I definitely need a lot more of. I was expecting to catch up on sleep and have a bit of R & R, and I did but not before I learned…
how to change a tire, check the oil, get reaquainted with basic car care, winter driving (not that we needed it this weekend as it was GORGEOUS)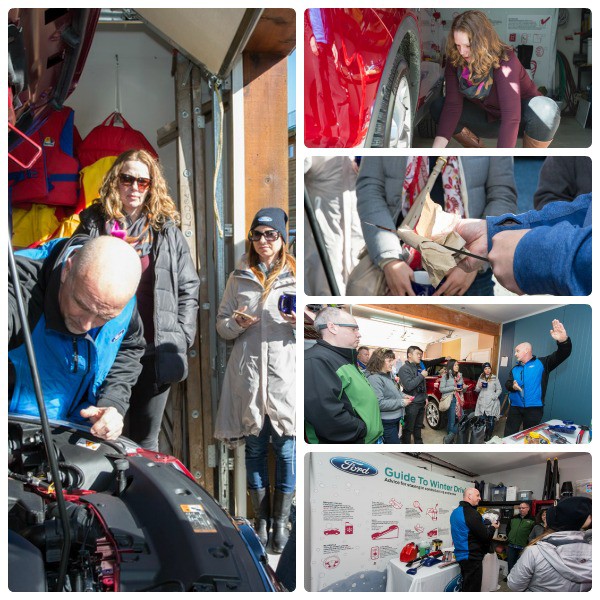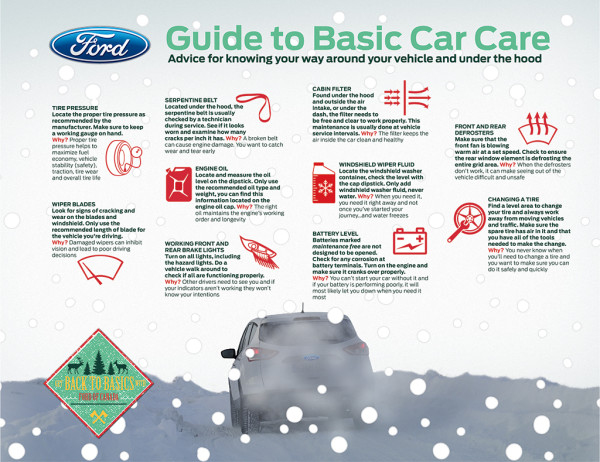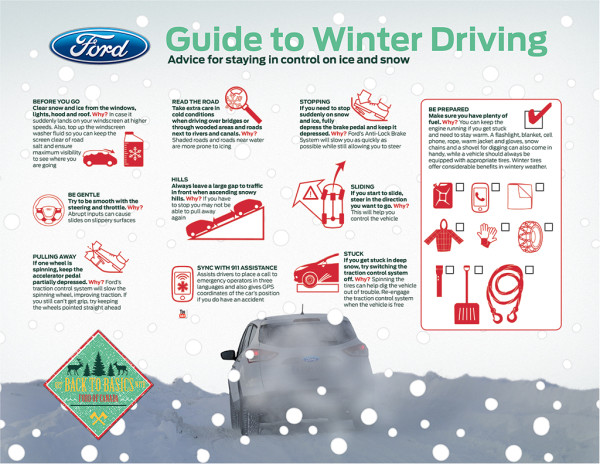 and we also took out this thing called a 'map'? to refamiliarize ourselves with navigation methods that don't require modern technology. And a perfect photo opp was had too because, why not?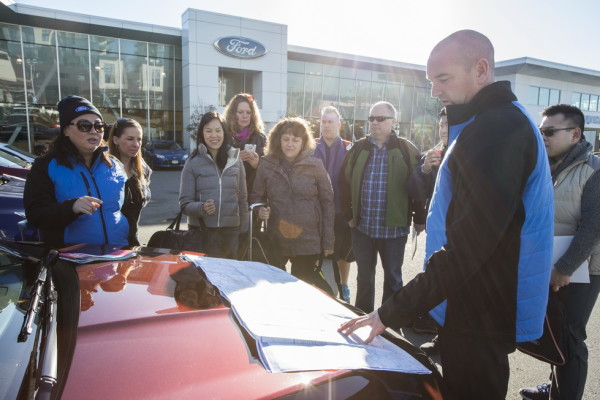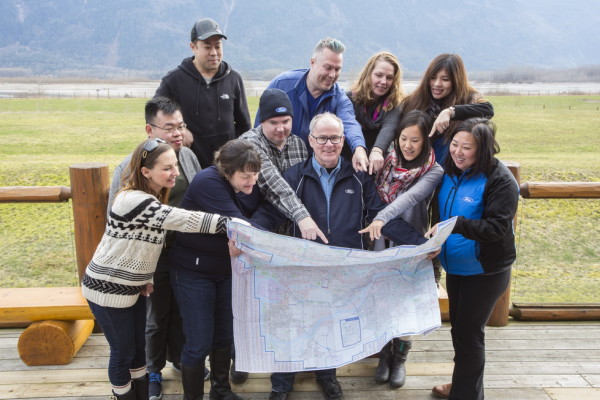 To be honest, maps may be where it's at when you're out in the bush, but I prefer the comfort of the onboard GPS and the MyFordTouch® technology all our cars had. Not only did they provide us with nearly perfect navigation but they also allowed us to interact with the various controls on the dashboard to adjust the climate, volume and what have you, with ease. The ride out to the Valley was certainly made more comfortable and being the stellar navigator that I am, I was relieved we weren't relying on a map to get us there! The Escape SE is a quiet ride too so I thoroughly enjoyed the journey. On the way home I was again passenger in the Ford Fusion Energi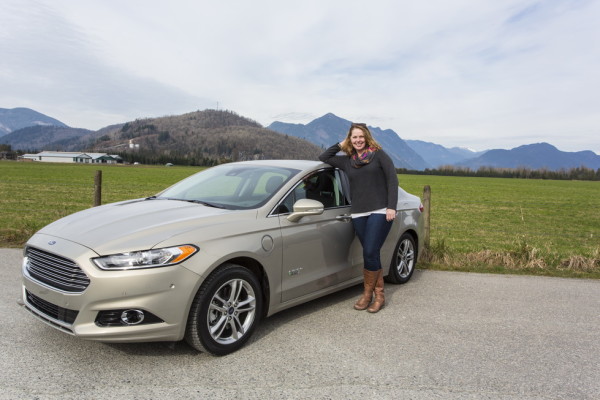 and even though I didn't get a chance to drive to the lodge or on the way back, I did test drive the Ford Mustang GT while at the Lodge.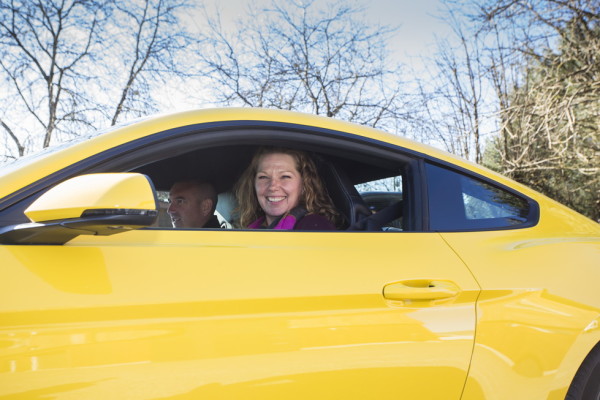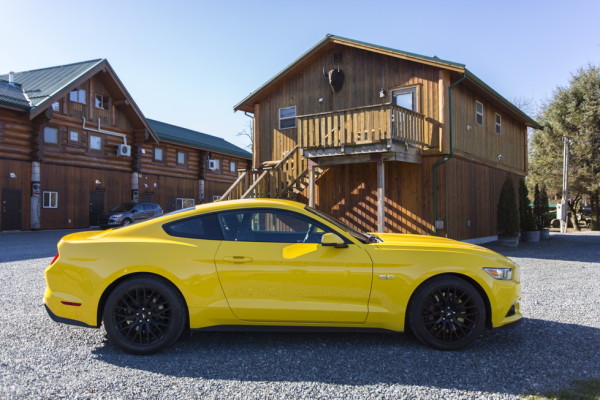 I think we really connected, this lovely GT and I. The seat hugged my curves, the curves of the country road and I only stalled her three times. That's only because she has a super tight clutch that needs some getting used to. I can easily see myself in this car, sans baby seat of course. What a powerful, beautiful thing this is. (This is not a car review, can't you tell?)
I also experienced Hands-Free Parallel Parking. you can tell I'm already a pro.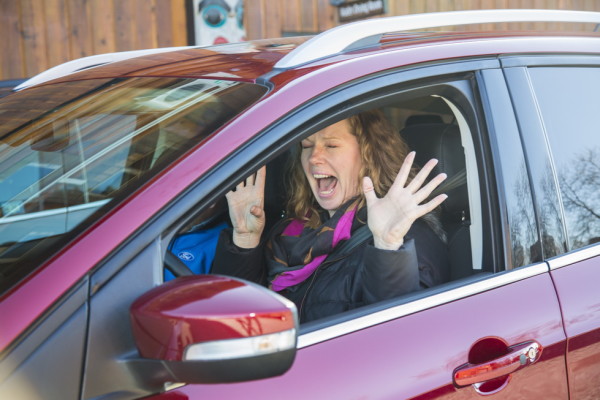 This mama was pretty tired, even though my room and the bed at the Fraser River Lodge was extremely comfortable, I'd had a bit of wine by the campfire and a few smore's which I probably shouldn't have, considering I just completed a weight loss program and was having no sugar at all.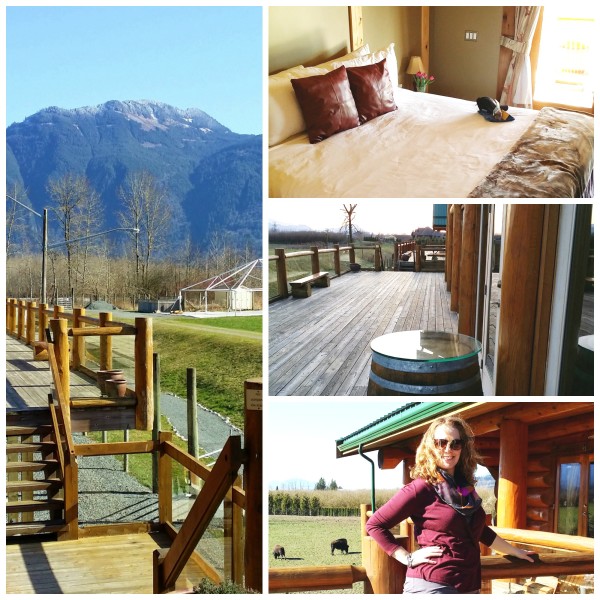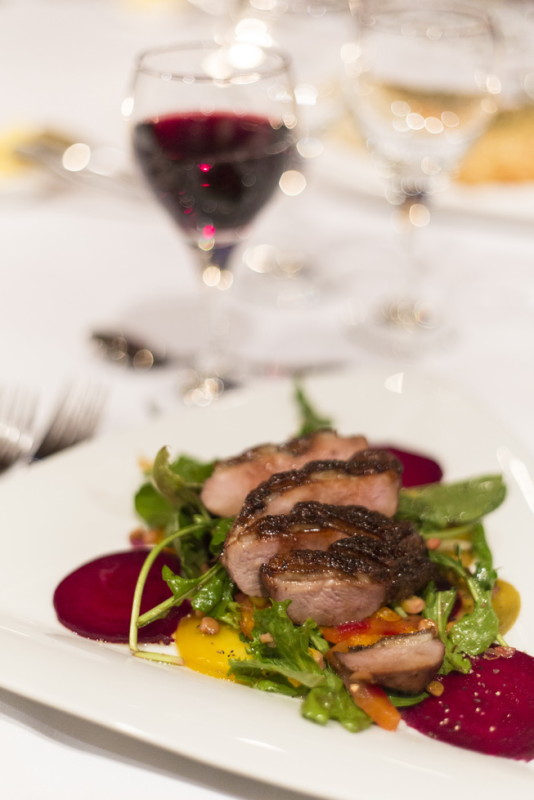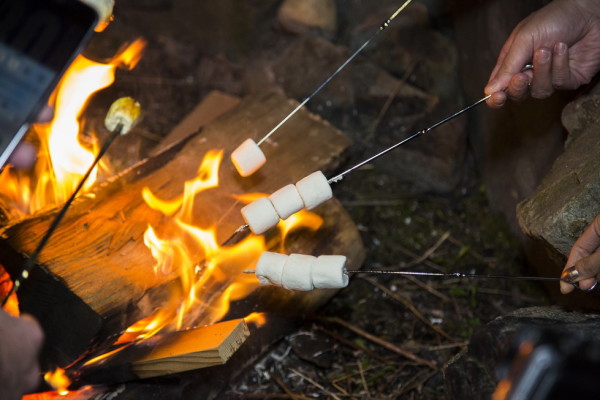 Oh well, it was worth it! I had so much fun with these peeps, we tasted wines from Mission Hills and La Stella and had a gourmet dinner prepared for us. Breakfast and lunch were luscious buffet style so I could make up for the sweets and sugar and opt for healthier choices.
The Tallest Fishing Tale EVER
I haven't forgotten to tell you about how we caught the biggest and ugliest (in a beautiful way) monster sturgeon in the mighty Fraser River. It was a gorgeous day albeit a little cold. But for March 1st it was pretty amazing that there wasn't a drop of rain in the forcast.
After a delightfully yummy breakfast and a bit of coffee, (if you need to pee you've got to get off the boat, not really convenient but that's what we had to work with) we got ourselves suited and booted and trudged out to the river, ready to take it on and catch us some fish!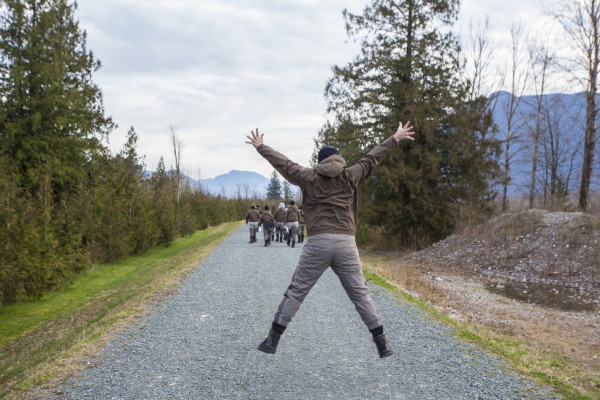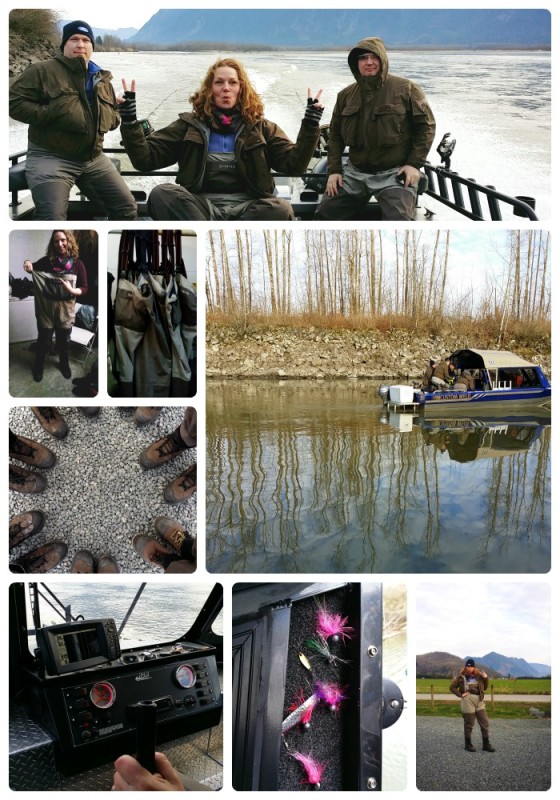 I didn't know this, but we were probably only going to catch sturgeon as it wasn't salmon season, and it was catch and release at that. I was relieved to know that the fish were being monitored through weighing and measuring as sturgeon are a protected species. I'm not a big fan of catch and release however this made me feel better about the whole thing. And I am also of the believe that when you come into contact with the great outdoors and up close and personal with its finest creatures it leaves you with an entirely different level of respect for mother nature and its wonders. So, I embraced the experience and watch the lines closely, for four hours!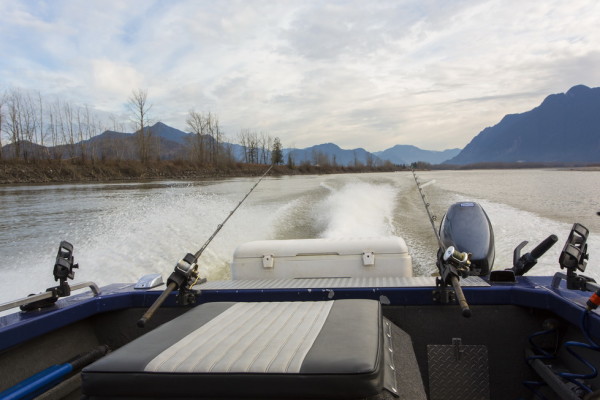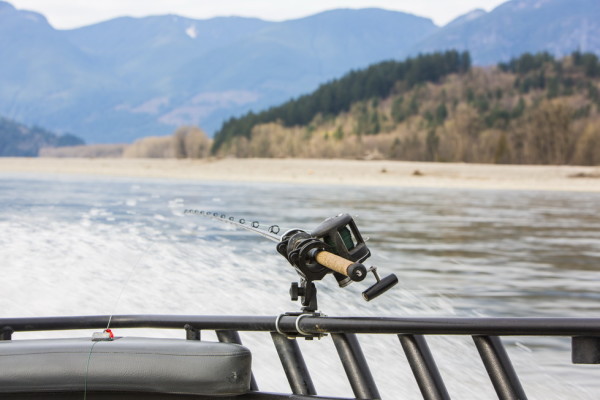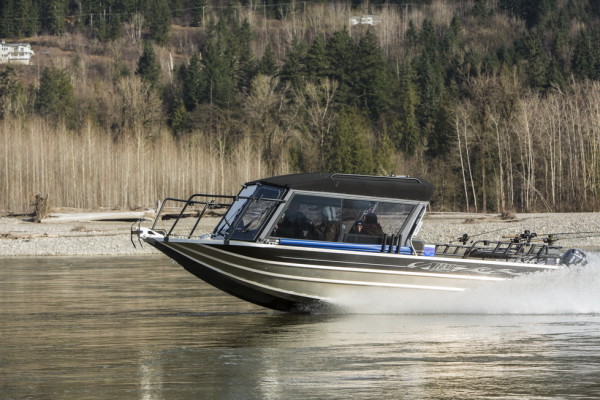 We had a few bites but didn't even come close to catching anything. Meanwhile one of our other two boats caught a fish not too long after we dropped our lines! I think it was a couple hours later when they caught an even bigger one! I think it measured five and half feet long! After our time was winding down the boat that didn't get so lucky headed back to the Lodge. And that's when we got our first bite! The other peeps on the third boat hung about to watch and after I released this beauty they retired too.
It turns out it was this lovely little thing, at three and a half feet long!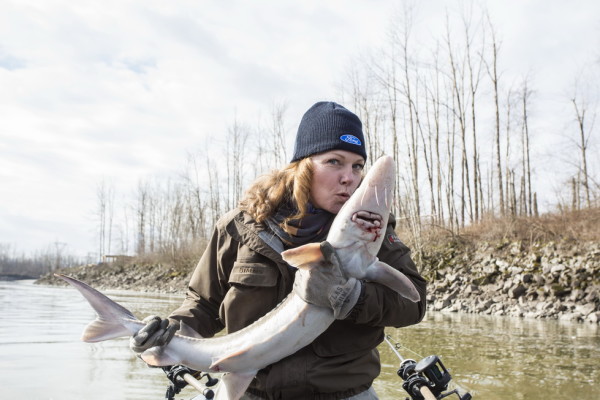 After that excitement we set the fishy free and we thought we were done but our guide wasn't. It seemed that he had a feeling, being the professional fisherman that he is, and so we were contemplating whether to move to another spot. We'd already moved many times and with the handy scanner device on the boat we could easily see where the sturgeon were hanging out. They are bottom feeders and often move slowly however there were quite a few making it known that they were not going to bite! Several times we heard a large splash and see the flick of a tail as they mocked us nearby.
We weren't in a rush to get back, the sun had come out from behind the clouds and it's like we sensed something big was going to happen. Or maybe it was just me hoping. Anyway, we'll never know but it was about five minutes after we released the other that we got another bite!
It was a big one he said! After making sure it was secure on the line, our guide handed the rod over to me as I was eager to experience what it felt like to have a big fish on the line. It was incredible how powerful that fish was! It pulled so hard I couldn't move in fact I worried it would pull me in with it and I'm not a small person! Our guide texted the other boats to let them know what was going on but they were already tucking into lunch I imagine.
But I didn't let it show, at least not at first. Now, I haven't been to the gym for a while so I didn't want to give up, but after about ten minutes my arm was exhausted. So I handed the rod over and my fellow blogger took a turn. And then he handed it over about ten minutes later. What a fight we had on our hands.
I'm sure if we had the time that I could have reeled this baby in all by myself, it just might have taken a couple of hours. Unfortunately we didn't have time for that and we were all pretty hungry so we worked together. It wasn't long before we knew she wasn't going to be coming in the boat as anything over five feet or so is far too heavy so we towed her to the beach so we could all have a look see.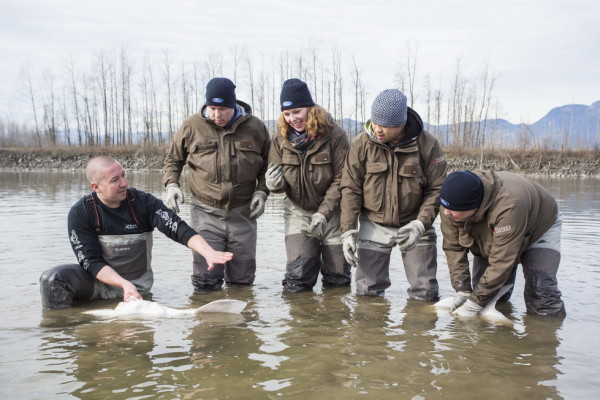 It's gets better! Now, why are we all in the water? Well for one, our hip waders needed breaking in, but we also wanted a photo with the lovely fish you can barely see in the photo.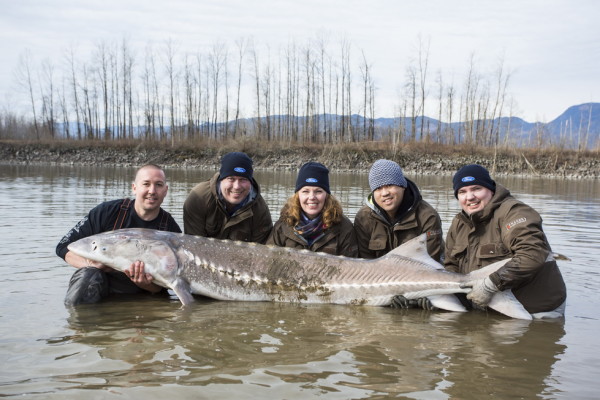 Can you believe how big and beautiful this sturgeon is? We measured her at ninety inches long and it is estimated at around three hundred pounds! No wonder we struggled so much! This fish is as big as two people!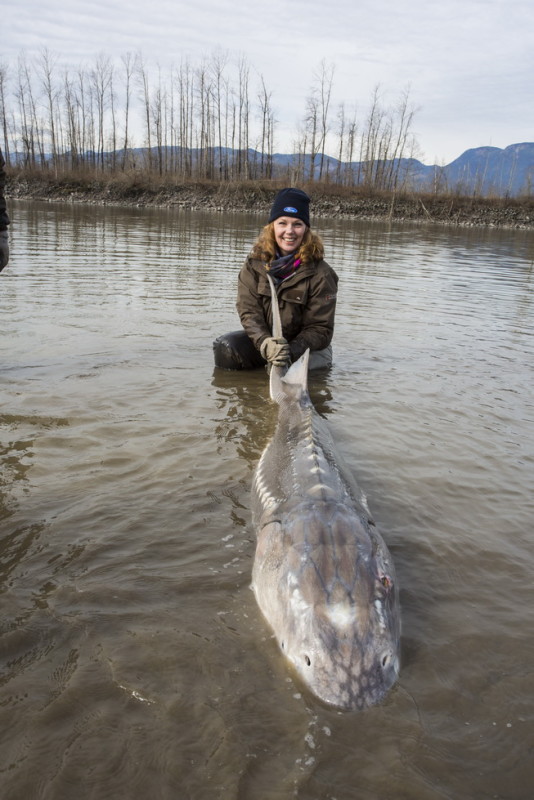 How's that for a tall fishing tale? And she's not even the biggest one caught near the Fraser River Lodge. Can you believe eleven feet is the record? Wow! If this girl isn't Ogopogo's Canadian cousin, I don't know which one is!
Thank you Ford Canada and the Fraser River Lodge
I loved the concept of this weekend and I will really consider more ways I can get back to basics in my life and that may just include a bit more fishing, although I'd love to catch a salmon! #FordBacktoBasics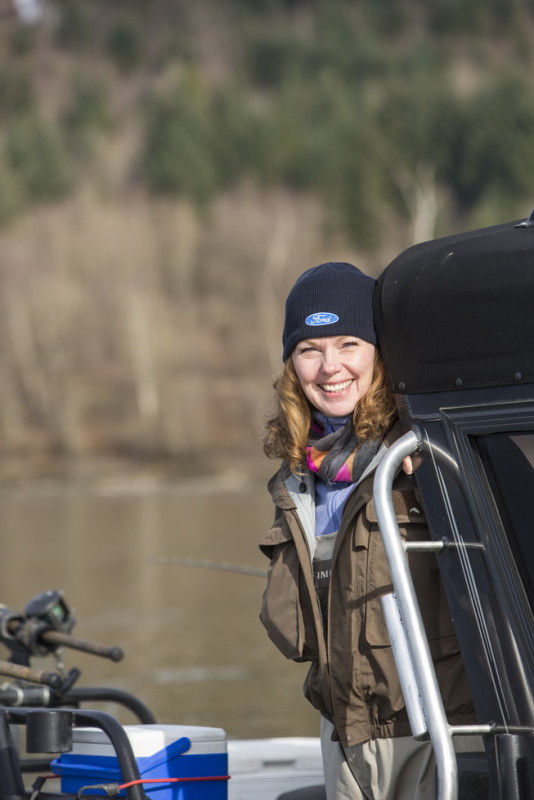 It was a fun weekend, thank you to everyone at the Ford of Canada team (Michelle, Jim & Judy) and all the other bloggers who participated.
* I was not compensated to write this post but I was invited by Ford to experience the most awesome #FordBacktoBasics weekend. All opinions expressed are my own.
Fraser River Lodge, 7984 McDonald Rd S, Agassiz
Follow Ford Canada on Twitter and Facebook and use the hashtag #FordBackToBasics
Some of the photos above were taken by me, but the really good ones were taken courtesy of Ford of Canada. Thanks!