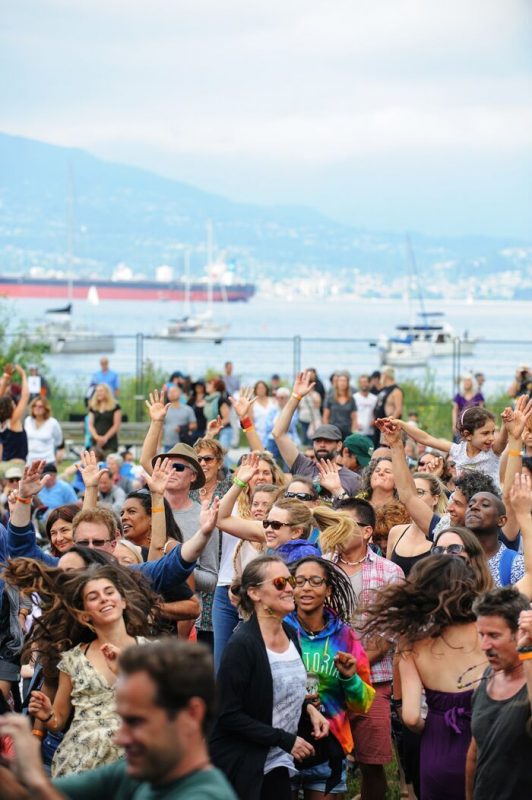 2017 marks the 40th year of the Vancouver Folk Music Festival and will be my family's fourth year attending.  I am looking forward to this event more than any other in Vancouver this year because it combines many of the things I love all in one. Music, food, beer, and napping.
I've known about this festival since I was a kid, having been born and raised in Vancouver, but always thought it was for the pot-smoking hippy-dipsters. Well, it was I suppose, but things have certainly changed.
Nowadays, the festival attracts a wide range of people as the definition of folk music has evolved. It's not just traditional folk music anymore, friends. It's music from all genres, except maybe heavy metal. 🙂 Yes, there's still the hippy type, but I can appreciate them a lot more. Growing up in Vancouver will do that.
The Venue is Gorgeous
What I love most about this festival is the venue. It's set in Jericho Beach Park, a gorgeous spot with lush grassy bits under old, weeping willows, perfect for napping. With seven stages spread around the park, there's plenty to take in and enjoy. The sound won't overwhelm you, either. I don't know about you but my concert-going days are over. The idea of being crammed into a building with the bass reverberating off the walls and destroying what little ear drum membrane there is left is so last decade.
My Top 4 Concerts Picks
It wasn't easy but I narrowed down a few of the concerts I'm penciling in, or rather, noting in the app (you can download the app below), but read this first.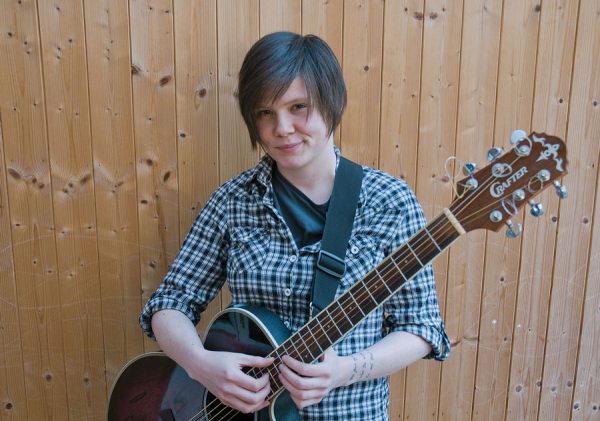 Grace Petrie ~ political junkie, folk singer, songwriter, and activist. She's witty and a pleasure to listen to while she poignantly rallies against homophobia, racism, and injustices.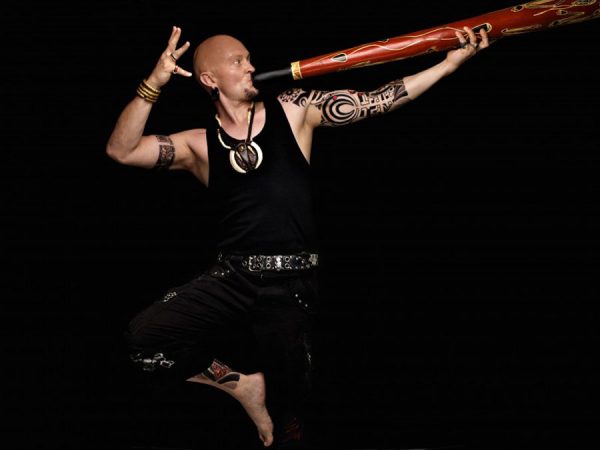 Ganga Giri ~ World renowned digeridoo virtuoso and innovator of a fusion of the ancient instrument and electronic beats have been hitting dance floors of the world. I can see it now…oh the dancing we will do.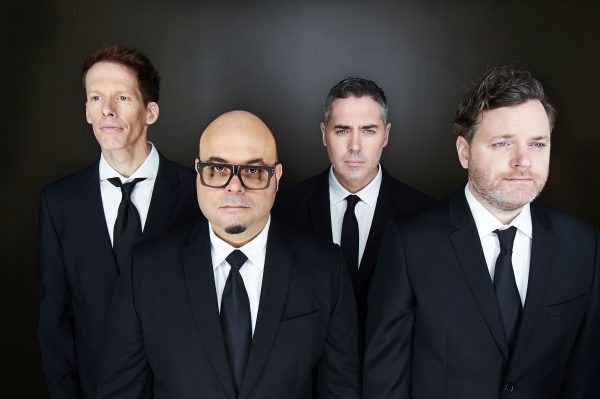 The Bare Naked Ladies ~ Having played together for nearly 30 years, BNL are still as popular as ever. But you already know that, right?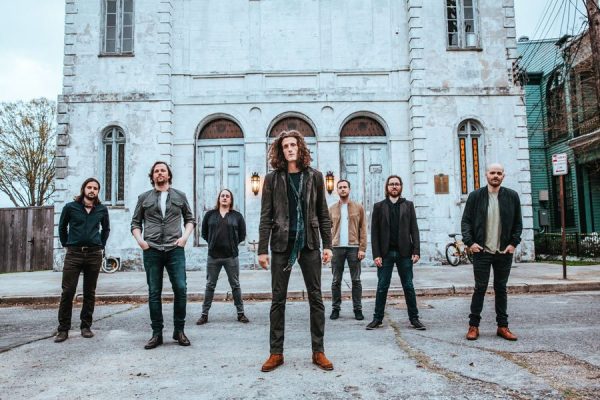 The Revivalists ~ This seven-piece New Orleans roots-driven rock band has just come into my life this year but they've been around since 2007. They happen to be on my Summer 2017 playlist so I'm pretty excited to see them in concert.
The Folk Festival has something for everyone
The Vancouver Folk Music Festival has something for everyone. We can celebrate our eclectic music tastes freely, exploring new genres and moving from stage to stage to find our jam. Oh and the Vancouver Folk Music Festival is THE best place to people watch.
Aside from the fantastic music lineup, there's the food and food trucks and places to chill in the shade with the kids. We attended one year in the rain and the trees provided adequate coverage so it was still quite pleasant.
This year the weather forecast is looking to be pretty hot so we'll be sure to bring lots of sunscreen and cold drinks. Of course, we'll also be checking out the beer garden, freshly frozen mangos on sticks, mini donuts, souvlaki, barbecued corn, ice cream, and beer. Did I mention beer?
Check out my 2015 post for more information about the festival HERE.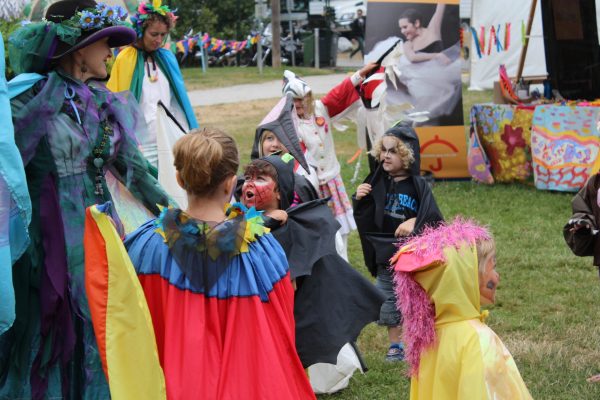 Little Folks Village
We plan to take in as much of the Folk Fest as we can, including the late night concerts. In order to do that (because we aren't willing to deal with a cranky 6-year-old), OLM will be at home with a babysitter in the evenings. During the day there is a ton of fun stuff to do and room to run in the Little Folks Village (which will wear OLM out and keep the sitter sane, too).
Can you see OLM? He was about three years old then. Sigh…
At the time of writing information about the 2017 Little Folks Village wasn't available but you can check out last year's highlights. Little folks 12 and under get in free accompanied by a paid adult.
About Little Folks Village
Create crafts and works of art from recycled materials, make a cup or a sculpture from clay, have your face painted, listen to stories, write a song, cool off under the water play tent or blow bubbles. Our volunteers and participating groups have parades and lots of great activities planned for the whole family. 
(From 2016) Friday 2pm – 5pm, Saturday, and Sunday 10am – 5pm.
FREE Concert: Canada Far & Wide: Grands Esprits.
On Thursday evening, July 13th, a group of diverse singers and musicians will gather on the Main Stage of the Vancouver Folk Music Festival in Jericho Beach Park to present a very special night of song in celebration of the festival's 40th year and Canada's 150th. The musical talent of Canadians from all backgrounds and walks of life such Gordon Lightfoot, Gord Downie, John Mann (Spirit of the West), Leonard Cohen and others will be celebrated.
Tickets are FREE. Reserve yours now by clicking HERE.
Do you want to attend the festival from behind the scenes? The deadline to volunteer is July 10th 2017.
Are you going to the VFMF this year? I'd love to know!
Get the Festival App
Download the festival app and browse the schedule, festival map, vendors, artists bios and more! You can find it on iTunes and Android.
Did you get your tickets yet? If not, click here.
Vancouver Folk Music Festival
When: July 13th – 16th, 2017
Where:  Jericho Beach Park
Getting there: Parking can be a challenge so have someone drop you off, ride your bikes or take the bus. Other than that, Google it 🙂

Connect with #VFMF2017 on Social Media
Facebook  | Twitter |  Instagram
More about the Vancouver Folk Music Festival
The Vancouver Folk Music Festival is a Canadian cultural institution – a unique community-based celebration with an internationally renowned reputation for presenting the finest traditional and contemporary folk and roots music artists from around the world.
Now in its 40th year, it continues to be one of the city's most beloved, enjoyed, and respected events – named "Best Local Music Festival" by Georgia Straight readers for the fifth year in a row, and 2016 "Best Music Festival" by readers of the Westender.
The Festival draws 38,000+ enthusiastic attendees annually to beautiful Jericho Beach Park, folks eager to experience the music and culture of more than 60 international, national, and local acts.
Every year, two and even three generations of families join friends and fellow community members to share in the music, dance, food, children's activities – and the magical ambiance of the festival.

Disclaimer: I wasn't paid to promote the festival however I was given weekend passes to cover the event. I hope to see you there.