The New Year's Eve Drinking Game
We spent New Year's Eve playing a *drinking game that included pulling questions out of a hat whilst drinking too much whiskey. The original plan was to drink wine but that didn't pan out. More on that later.
We didn't try to out drink each other as you might in real drinking games, we were smarter than that. Drinking straight whiskey with a toddler asleep in the next room brings back visions of past episodes of Breaking Bad. Not pretty. So yes, we did have some semblance of control over the booze consumption. Besides we're not 42 (life before OLM) anymore.
When discussing the drinking game we were about to play, I asked the Serious One what he thought about spending New Year's eve this way. He said, 'It's so you Lee-Anne so I'm not surprised you want to spend it this way.' Hmmm, there I go dictating what we're gonna do again. That's another conversation we'll need to have.
But nevertheless the game was pretty fun and insightful. And he's right. It is so up my alley.
If you recall from last night's post, the game of 20 questions was meant to reflect on 2012 and to be done on New Year's Eve. But really, it can be done at any time.
Anyway, we got going on it but it didn't start out too pretty as you can tell from this photo.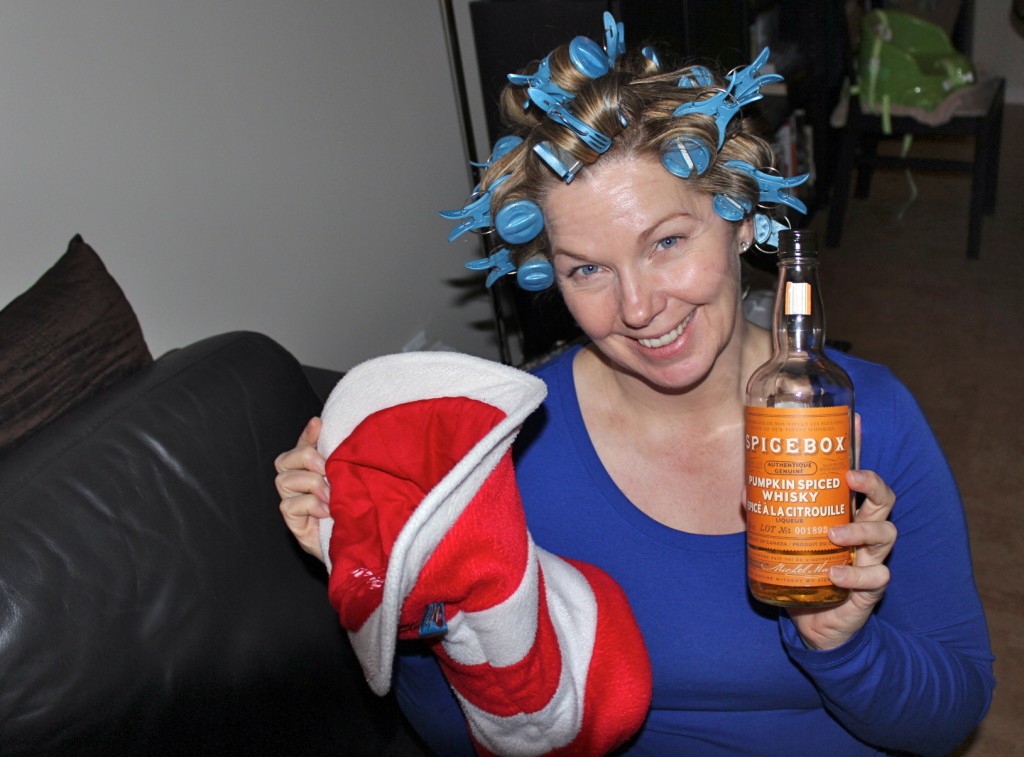 I'm not really sure why I felt the need to put rollers in my hair but it seemed like the right thing to do. Perhaps I was hopeful that the Serious One had a wonderful evening planned for us and that he would spring it on me after the baby was in bed.
The last time I put rollers into my hair was in preparation for my baby shower he didn't think I knew about. But, that's ancient history. And, he now knows I knew about it if he reads the crap I write.
Anyway, back to the game.
The Serious One in all his wisdom, plopped said bottle of pumpkin spiced whiskey in front of me and poured a four-fingered drink. All I can say is it's better than a one-fingered one.
He obviously knew something I didn't which was that wine was really not going to cut it tonight. There was some serious shit about to be discussed and he was certain I needed a rather large glass of whiskey to cope.
He wasn't wrong about that.
We stayed up way too late and the game took way too long. But it's been a long time since we had such a nice discussion over a thousand four-fingered drinks. It's usually hurried or we're watching some crap on TV together.
There were no tears which frankly surprised the damn out of me. Then again, the questions we asked each other were somewhat familiar which gave me comfort in the fact that we have pretty good communication. When we're not dog-tired. Or sleeping. Or cleaning up various spills and changing yet another poopy diaper. But I digress.
Here are the 10 questions I pulled from the (Cat in the Hat) hat
1. What was the single best thing that happened this past year?  ~ Enrolling OLM in daycare was my original answer. The freedom I've gained from the time for myself has been invaluable. He's got a happier mama to deal with and gets to play with other little people his age. But after some thought, and more whiskey prompted conversation, my answer has changed. The single best thing that has happened is that my mom has become more involved in my family's life than I thought was possible. I am so happy that OLM has opened the door for my mom and I to get to know each other and that he has his grandma in his life.
2. What was the single most challenging thing that happened? ~ Sleep deprivation has been by far the most difficult thing I've had to overcome.
3. What was an unexpected joy this past year? ~ I didn't expect to enjoy writing as much as I do.
4. What was an unexpected obstacle? ~ I thought that by now I would have figured out my career path. I haven't but I've put a lot of irons in the fire. Do you know anyone who wants to hire a gal like me? Just kidding, sort of. 🙂
5. Pick three words to describe this past year. ~ exhaustion, gratitude, freedom
6. Pick three words your spouse would use to describe their past year—again, without asking. ~ tired, perseverance, pride
7. In what way(s) did you grow physically? ~ I've taken a lot of yoga the past year. I've learned to breathe which helps me sleep better and to relax.
8. What was the most challenging part of your work (both professionally and at home)?  Sleep deprivation with a tired and cranky toddler.
9. What was your single biggest time waster in your life this past year? ~ TV, plain and simple. Although I have to admit that watching various tv series on Netflix has been awesome. Aside from the giant time suck.
10. What was the best way you used your time this past year? ~ Writing this blog has opened up so much of myself, my perspective and finding my voice has been such a valuable experience. Of course, spending time with my little guy has been more than amazing.
 *The intention of this game was not to be a drinking game, but its way more fun this way. And, if you're not a sloppy drunk like some, it helps you relax and tell the truth. This is always good however it's important to remember what you said or it's a waste of time.
The End of the Drinking Game
After all the questions were answered and plenty of hugs and smiles and sloppy kissed were had, we put Dick Clark on.  I missed the ball drop as I was in the bathroom scrubbing off makeup and brushing my teeth.
I hate watching that damn ball drop and so I rebelled by hanging out in the bathroom. Besides, I had too much to drink and knew that the gods were not with me when I say that I was hoping for a miracle that OLM would sleep till noon. But as it turned out, I was given that grace when the Serious One got up with OLM at 8am and let me sleep in to sleep it off.
He's amazing, really. I am a lucky, lucky girl. So I think it's about time I give the Serious One another name. He's proving to me that he is much more than that. This will be one of my first tasks for the new year.
A resolution of sorts? Hell no. I just want to change it up and recognize the good that is in that man.
I hope your New Year's Day has started out as well as mine has.
Cheers!