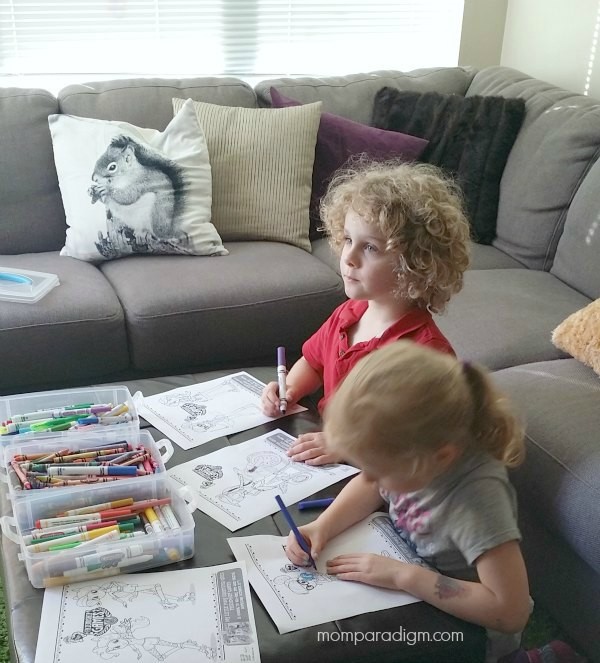 I am not the kind of parent who believes that TV is the devil. Rather, I am the mom who becomes the *devil if I can't get a bit of peace. Just ask the hubs (AKA The Serious One, who by the way is no longer so SERIOUS, I just haven't come up with another nickname yet) now that our son sleeps through the night! Woot!
He's front and centre witness to the madness in our house.
*Disclaimer: I've just discovered that peri-menopause may just be that devil now that I am getting more sleep. Are you reading this hubs cause I'm not sure you know. And if you did you would NEVER say it, right?
Back to my point.
I have not yet found a way to 'entertain' OLM without the TV when I need to cook dinner. If he's in the kitchen with me it gets messy and ain't nobody got time for that. So, I plug him in to get to the cookin'. Here's today's selection.
My Little Pony – Equestria Girls ~ Friendship Games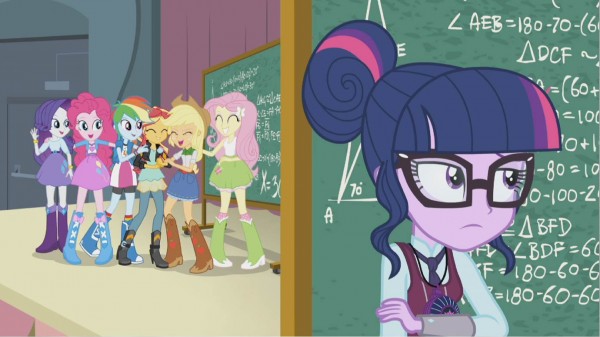 My son loves anything My Little Pony so he was pretty excited when he came home and found the DVD I 'secretly' placed on the sofa. And with his little girl friend (they'll get married one day I'm sure) at our house for a playdate, it couldn't have been more perfect for them. And well, for this peri-menopausing peace-seeker too.
I sat to watch and get them settled but soon the questions started flying.
Why does she have such huge glasses? What's wrong with her eyes? And about another somewhat creepy character…Why is her skin green? Is she a witch cause she really looks like one?!
I don't know, my darling child. But all will be revealed. Just colour and watch, I say. And back I go to the kitchen.
So I don't really have a review per say. At least from my point of view. But I do know that Friendship Games held their attention a good long time. They were singing together and colouring together and not fighting or crying (like yesterday) and quite content to stay put for most of it. That was a win. And I got dinner on the table for five o'clock which is pretty much the best thing that happened today. No wine needed either so woo-hoo!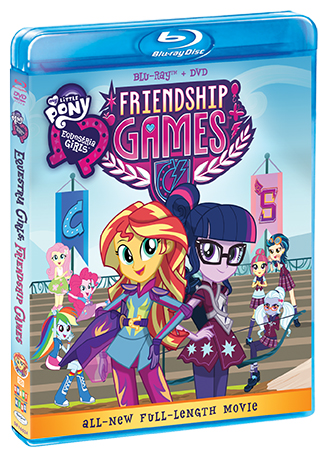 I'll tell you about the prize pack and then you can go ahead and enter the giveaway, kay?
The Prize Pack Includes:
1 copy of My Little Pony Equestria Girls: Friendship Games!
4 colouring pages to download and print
Giving them something to colour while watching the movies is pretty smart. It avoids that 'deer in the headlights' or 'zombie zone out look common amongst five year olds in front of the TV. And I feel better about letting them watch a full length film when they could've been outside burning off energy.
Here's the plot summary. Yes, there is a plot!
Canterlot High meets its rival school, Crystal Prep Academy, in a competition that's a long-standing tradition – The Friendship Games: a series of exciting events that includes archery, motocross, and rollerskating! Sunset Shimmer is tasked with keeping magic out of the games to keep things fair while she and her friends compete against Crystal Prep's top students led by someone with an equal amount of interest in Equestrian magic – this world's Twilight Sparkle. Continue the journey through high school with the Mane 6 in this alternate My Little Pony universe, and find out what happens next in My Little Pony Equestria Girls: Friendship Games!
If you'd like to see a quick trailer you can!
GIVEAWAY
This giveaway starts TODAY and ends on November 6th and is open to Canadian residents only.
[Tweet "I just entered to win the My Little Pony Equestria Girls Prize Pack. Woot! @ShoutFactory"]
Follow Shout! Factory on Facebook and Twitter to find out more about this awesome new My LIttle Pony flick. You can buy My Little Pony Equestria Girls: Friendship Games on Blu-ray/DVD/Digital at Amazon.ca and available digitally on iTunes TODAY!
Good luck!
I wasn't compensated for this post but I was given a copy to review. All opinions are my own, as usual.