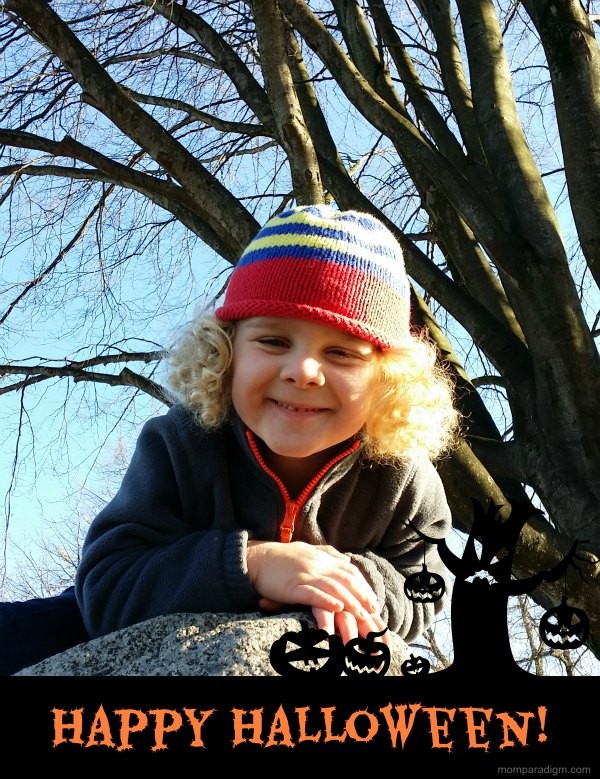 Don't you just love the holiday season? (Halloween is a holiday, right?)
The holidays are a time to celebrate, kick back with friends and well any excuse to party is a-ok. And we live in an amazing community in the city but you'd think it was a small town for all the warm, fuzzy connection type stuff going on. Our apartment building, and not just our space feels so much like home. The kids all know each other (there are upwards of sixty plus at last count) and it's really sweet to watch them grow up together. And with Halloween just around the corner it's fun to get into the spirit of Halloween together.
It's going to be fun to see all the kiddos dressed up to go trick-or-treating inside the building where many neighbours have decorated their doors and possibly win a prize!
At last check-in OLM is determined to be a fruit bat. While I might not think that's very exciting he seems to think it's the cat's meow. He may change his mind as five-year-olds often do. We'll see. There are plenty of superhero costumes to choose from, his closet is chock-a-block, and any of them can be zombified in a pinch so I'm not too worried.
The fall weather has kicked in hard and I expect it will be wet here in Vancouver on the big day. I love that we can stay inside for the most part where it's dry and warm. Until then, and yes! there are only two days left but we're going a bit crazy trying to find Halloween themed activities to keep OLM busy.
Every morning for at least two weeks he wants to go on Pinterest to get costume ideas and to print something to colour. We've found a fruit bat mask which will work but I think he's getting bored with Pinterest. What?? So we need something else, something more engaging so I was stoked to find these activities that will keep the little goblin satisfied until the big day.
Last Minute Halloween Ideas
Party Time
Are you planning a Halloween party and need some games to liven things up? For kids and adults and everyone in between, you'll get into the spooky spirit with these party games that will turn your blasé party into a day to remember. And it's easy too. Just go to their website, choose the kind of party you're hosting and click away. Best of all? It's FREE! TinyPrints.com UPDATE…is now Shutterfly.com.
Kid's Interactive Games etc.
Sometimes staying inside on a rainy day is just what we need to recharge and relax. So to keep you from going batty I found some Halloween interactive games, last-minute costume ideas and well, printables too. But these are way more fun than we currently found on Pinterest.
And there's more. Check them out on NickJr.com
I'm all for play in the real sense of the word with kids but we can't escape technology. So, I'm embracing the idea that our kids can benefit from fun stuff like this on the web while making sure I don't become an *ahem lazy parent by not setting limits.
Did you like this post? Please share on Twitter.
[Tweet "RT These last-minute Halloween party games and interactive printables are fun!@nickjr @KidsCBC @tinyprints"]
I'd love to hear from you!
Leave a comment below. I know you're busy so tell me in one sentence or less what you thought.
This is not a sponsored post.