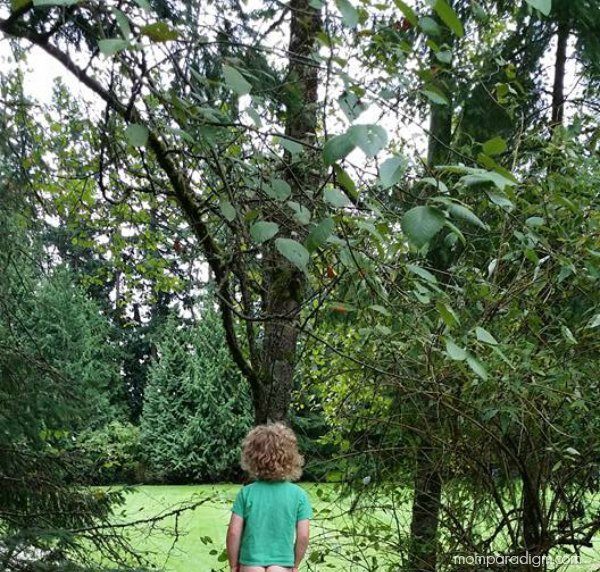 I love this photo of OLM. It says so much about who he is and what I imagine who he'll be when he grows up. Free, uninhibited and happy to explore the world around him. Toilet schmoilet. He's fully equipped to take care of that. All. By. Himself.
Posting Photos of my Kid Online
As I posted the un-cropped version of this photo on Facebook I reminisced about how sweet this moment was and how lucky I was to have captured it in a photo. I had shown this photo to him when I snapped it but that was a couple months ago now. He's changed so much in that short time and I've noticed that he is much more aware of how others perceive him. He gets embarrassed so easily.
But I couldn't seem to stop my finger from hitting the 'publish' button! AAAAAAAHhhhhh!
What have I done?
Thankfully he was nearby so I asked him to tell me if it was OK if I showed it to ALL of my friends. I didn't tell him that I already did.
"Mommy, that's not ok! Remember you told me that I shouldn't take pictures of my private areas?"
Oh crap.
I DID tell him that last week and I DID delete a few *errr photos that were taken with a certain kid's camera.
I quickly deleted it but I know that might not enough. We've all read about videos and photos being 'grabbed' on Snapchat before the user could delete them. Now, I'm certainly not the paranoid type and if you've been following this blog you know that I wear my heart on my sleeve. But what OLM said to me hit home.
This isn't about me anymore. It's about him. And before you go all, "what a terrible parent you are! How can you even think about doing that!"…
…well just don't OK?
If you know me at all you'd know I am fiercely protective of my son but I'm not paranoid that he's going to be snatched, or worse. I am a big believer in learning from our mistakes as they are our biggest teachers. And I also know that when I'm in judgey mode, it's more about me than it is about the other person.
Anyway, I digress…
Keeping my Kid Safe Online
Our precious little boy is going into grade one this September. And while I can say the time has flown by, when you've been sleep deprived for the entire time, it can really DRAG. But we're here now.
It's a new chapter in our lives and along with that comes new challenges and experiences both good and others not so much. And while we'll be setting our sights and hearts on the good stuff, we'll keep this knowledge in our back pockets. This mama bear will keep him safe and protect his innocence as much as I can.
So, I won't be posting any photos that he might be embarrassed about on social media anymore. In fact, I will ask him for his stamp of approval before I post anything with his sweet face in it.
What are your guidelines for posting photos of your kids online? I'd love to chat with you in the comments!