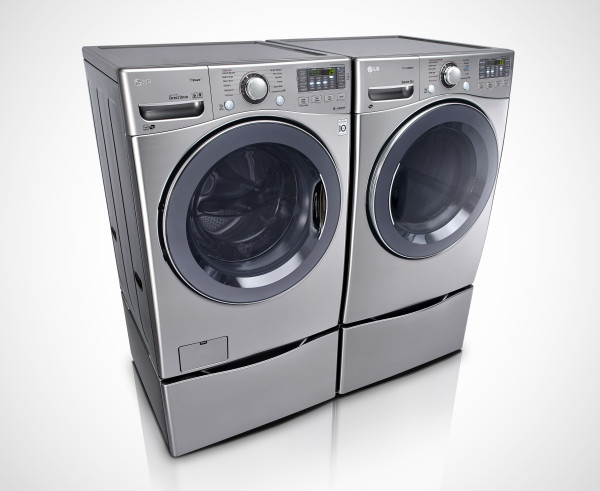 How do you get your white clothes whiter?
There's an APP for that
I'm a tech geek at heart I admit, if only for the convenience it affords me. I like my free time too much to waste on household chores that take time away from the more important things like writing, catching up on sleep and pretty much anything that doesn't include maintaining a clean abode. I'm not saying the house is total disaster zone, let's just say the sun would shine a little brighter if I'd just remember to clean the windows more often. And even though I am a work/stay at home mom, laundry, dishes and general cleaning just don't get done as often as *cough* some would like.
So don't ask me how to get your white clothes whiter. I have no idea. But I can tell you this. There's an APP for that!
LG NFC Tag on technology takes your laundry at home to the next level. It eliminates the need for dry cleaning, by providing you with various and very specific wash and dry cycle settings right from your phone and in the comfort of your home. You can customize your washer or dryer cycle with a tap of your phone using the LG Smart Laundry app. Your washing machine needs may change but your laundry machines don't have to.
What if you could customize your washer or dryer so it only has the cycles you want? LG's NFC Tag-On technology lets you download new cycles directly from your smartphone. Simply download the app, select your new cycle and touch, or "tag," your LG appliance to download your selection.
What else can NFC Tag- On do?
From one-touch cycle options that help you choose the right setting to instant solutions to your troubleshooting questions, LG puts smarter, simpler laundry in the palm of your hand.
Now if only it would fold and put the laundry away.
[Tweet "Program your LG washer/dryer with this app and never dry clean again! #LGNFC"]
For more information on LG's NFC Tag-On technology visit LG.com.
Follow LG on Facebook and use the hashtag #LGNFC on Twitter.
I was compensated for this post but as always the opinions are my own.