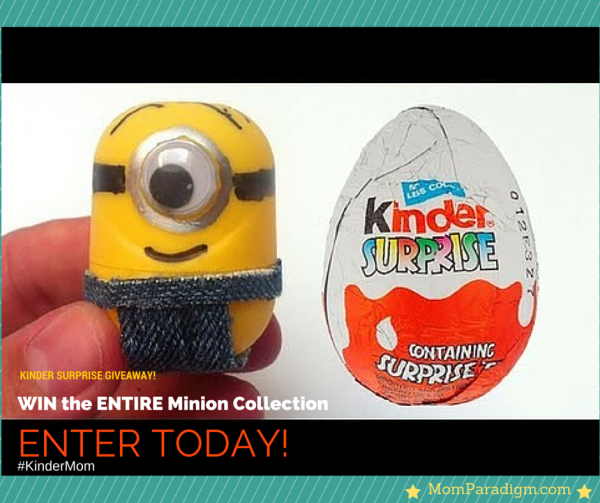 The Minions are Coming! The Minions are Coming!
The new Minions movie is coming to the big screen on July 10! Are you excited? I sure am as I love these little yellow guys!
As a fan of all things Minion I am happy to announce I am hosting a special giveaway that includes minions, of course, and chocolate.
I know you'll love these sweet treats and what a better way to get pumped for the new movie than to have some little minions around to do your bidding, I mean… Oh, never mind. (bad attempt at a really bad joke but I'm leaving it in. Don't judge.)
SAVE THE DATE!
On Friday, May 22, join in for an extra bit of fun on the KINDER Facebook page. For fans who've already collected all 11 Minions toys, there's a chance to win four tickets to see the Minions movie in theatres when it comes out this July. Woot!
AND Follow KINDER® on Social! There is always something going on over thar!
Win a $40 Minion Collection. Enter today!
This giveaway ends on May 27th at midnight.
I am a proud #KINDERMom and receive tasty chocolate eggs and KINDER® treats for my little man.
The contest winner will be required to provide a full name and complete mailing address to be shared with KINDER® for shipping purposes. While you may enter as many of the KINDER® contests as you like, you can only win once. You must live in Canada to claim your prize.
Photo Credit: https://www.youtube.com/watch?v=X1IJ_0BI4s0