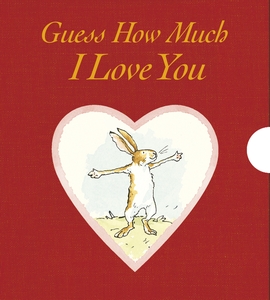 I got Guess How Much I Love You – The Adventure of Little Nutbrown Hare – Someone Special DVD in the mail the other day and agreed to do a review.
Honestly, I wasn't sure why I would need to have a DVD on hand when we have Netflix readily available and watch too much of it already. I'm not a huge fan of sitting OLM in front of the TV because I hate that blank stare. You know what I mean.
Review
Anyway, we watched it together because, well I said I would, and this is what I discovered.
1.) Guess How Much I Love You is not available on Netflix.

2.) This is the 'North American' version which means that the original British soundtrack has been replaced by a more familiar dialect. I do like the original but I suppose it's nice to have this version as well.

3.) I love the calming effect these stories have on OLM. He is a huge superhero fan and when he watches anything that resembles good guys vs. bad guys it's not long before he's running around in circles shooting webs and such.

4.) I love the message these stories send to our littles. And I adore the way every track ends. Big Nutbrown Hare and Little Nutbrown Hare always tell each other how much they love each other by comparing their love to such things as all the stars in the sky or the snow that is falling.

5.) Having the DVD on hand is actually kind of nice. It stays in the DVD player and it's easy to put on without flipping through the channels on the TV and having to quickly bypass programs that are too violent or not suitable for the time of day. And the same goes with Netflix too. I hate saying NO to programs he likes, even though I know they are stimulating for him.
Recommendation
If you have never watched this with your littles I recommend that you do. It will leave you feeling warm and mushy and ready for cuddles. And who doesn't want that?

Guess How Much I Love You, the timeless and beloved picture book, is coming to life on DVD in the U.S. and Canada. In the new release, titled Guess How Much I Love You – Someone Special, Little Nutbrown Hare and his father Big Nutbrown Hare remind us that there is no greater love than that between a parent and child. The DVD includes 7 heartwarming episodes that we're certain you and your little Hare will enjoy over and over again!
GIVEAWAY

This giveaway ends on January 31st 2015 and is open to Canadian residents only.
Follow kaboom

! Entertainment on Facebook and Twitter