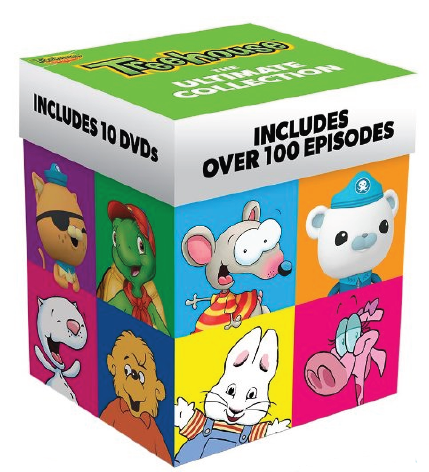 It's not yet St. Patrick's Day, I know, but we are looking ahead to Easter as it is one of the funnest holidays for our family. This year it's going to be even better as we have some Easter fun planned that doesn't focus on chocolate and the Easter Bunny. Oh don't you worry, there will be plenty of chocolate to be had in this house!
We love to watch seasonal programs on TV and this Easter will finally be no exception because we got a package in the mail that was fun to open. Sidenote: when the contents give me piece of mind it's a win for everyone! And no, it's not a yoga mat or Zen teas. It's even better than that.
It's a HUGE DVD collection for my little man!
Sometimes turning on the TV is the only way I get a bit of quiet in this house. If you know our son, you'd know he's *cough* high energy and requires a lot of physical activity to wear him out. When that isn't possible it's nice to know that I can turn on one of his favourite programs for an hour so I can get things done and chill out. (Read: have a nap)
However, rather than rely on Netflix or cable, it's nice to have DVDs already loaded into the player so we can turn them on at a moment's notice. And now that he's all tech savvy himself he can turn it on without much help.
I asked my son to open the box we got in the mail and while he really was excited to do it, I think he was expecting a treat in the form of sweets. And because we don't have Treehouse on cable (yet) he doesn't really know many of the characters. He did get excited for Franklin though and has been insisting on being a turtle ever since. So I guess that's good.
Here's the unboxing video that my son did when we got The Ultimate Collection by Treehouse in the mail. We watched Franklin right away and he watched a bit of Toopy and Binoo too. He was laughing pretty hard at Toopy and Binoo's antics so I think he's over the sweets thing.
[Tweet "Check out this unboxing video! And win #Treehouse Ultimate Collection @kaboomkids #giveaway #Easter"]
The Treehouse Cube includes 10 of your favourite Treehouse friends and is a great gift idea of Easter – Toopy, Binoo, Franklin, Max, Ruby, Brother Bear, Captain Barnacles, Kwazii, Golias and Nessa – each with their own DVD for you to enjoy. TREEHOUSE The Ultimate DVD Collection has over 100 episode to keep your littles busy (and you well rested)  as well as Zack & Quack: Popping Hopping Easter!  I'm certain this gift will make your little ones hoppin' happy this Easter!
GIVEAWAY
Win a Treehouse Ultimate Collection Cube and a copy of Zack & Quack: Popping Hopping Easter.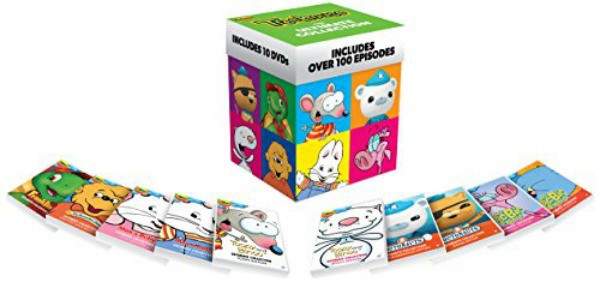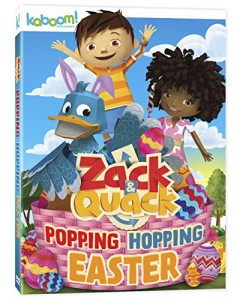 This giveaway starts March 11th and ends March 26th at midnight! To enter just follow the directions in the Rafflecopter form below. Please note: This giveaway is open to Canadian residents only.
And don't forget this!
I recently reviewed Guess How Much I Love You – The Adventures of Little Nutbrown Hare – Someone Special and want to remind you that this is a lovely story to share with your little ones at Easter. You can purchase this heartwarming DVD HERE and get it in time for Easter.
I wasn't paid for this post however I was given product to review.