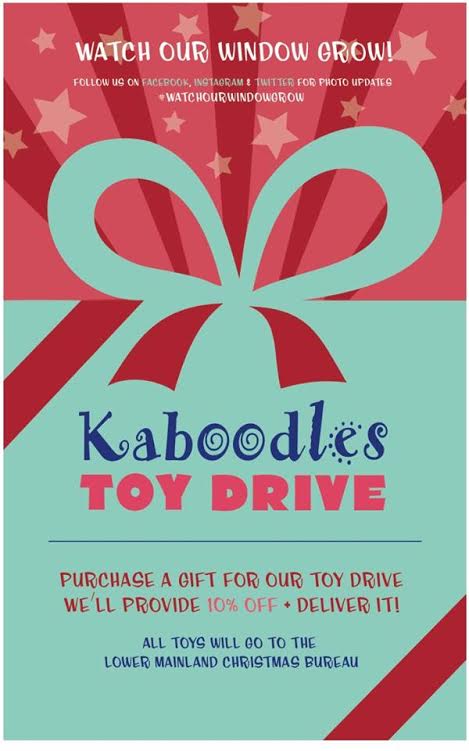 Christmas Toy Drive in Vancouver
As I mentioned in my previous post, we are getting into the spirit of giving this year by donating toys in our community toy swap. And we are also going to donate to the Christmas Toy Drive at Kaboodles to support the Lower Mainland Christmas Bureau.
I don't know if I told you, but when I was a child my family benefited from the generosity of organizations like the Christmas Bureau and I want that same excitement I had when I was a child to be felt by children who are less fortunate than my own now.
Running through to Christmas Eve – you can visit any of Kaboodles' four locations to participate in this fun and meaningful toy drive. All donated gifts will be delivered to the Lower Mainland Christmas Bureau (LCMB) to help families in need provide gifts to their children this Christmas.
The Lower Mainland Christmas Bureau is a wonderful organization that has been dedicated to making Christmas a little more special for struggling families since 1930.
Kaboodles' goal is to collect hundreds of gifts for struggling families this year. Each week, Kaboodles will be offering special incentives and giveaways to those who participate in the Toy Drive. Follow the action (and watch the pile of donated toys grow each day!) by visiting Facebook, Instagram and Twitter (#KaboodlesToyDrive). Oh, and if you purchase a gift for the Kaboodles Toy Drive from a Kaboodles store, you'll get a 10% discount.
Thank you for reading!
Happy Holidays!
Have you joined the email list? The #MPHolidayGuide featuring great products is coming soon!