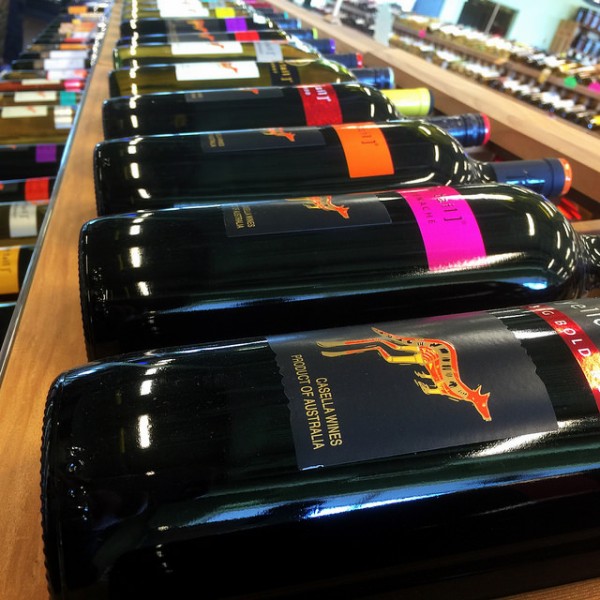 This post continues the series Cheap Wine Finds which also includes Cheap-ish Wine Finds for those days I feel like cracking open my wallet for a bit more cash. You can see all the posts in the series HERE.
**
It's been a while since my last Cheap Wine Find and I think it's about time you got another not-so expert opinion on a reasonably priced bottle of vino. Last year I did a feature on the [Yellow Tail] Tree-Free Chardonnay. As always, it was the unique label that attracted my attention. The pretty picture of a kangaroo (later discovered to be a yellow-foot rock wallaby) sold it to me.
'This chardonnay is quite nice' set the tone for my 'thorough' review of the wine. I found it a little sweet and slightly acidic but for an everyday wine I was impressed and gave it my seal of approval.
Someone else thought my Cheap Wine Find review quite fetching and has offering to report on what is probably another stellar bottle for an installment on this site. And her style is similar to mine, albeit a little more informed *wink*. I've not tried this Rose myself but I will now that I've read this review! How could I say no?
Introducing [yellow tail] Pink Moscato
I realized it was time for a review on a bottle of Rose so I picked up a bottle from Tesco (for my UK friends) and got down to some serious erm … reviewing.. The pink drink is certainly the way to go for those who want keep the grill up and running and hold on to summer, al fresco dining or just any excuse for a laugh with friends. With that being said, I thought it was a fitting tribute to the past few months of sunshine and to hold on to what might be a few more days of summer like weather as we head into Fall. [Yellow Tail] seemed like the smart option given the affordable price tag, under $20.00, and Lee-Anne's past experience with their Chardonnay.
Review
According to the good people over at [yellow tail] "Life's better when you think pink!" I'm not going to disagree with that statement but I've always preferred a bottle of white. I'm also not so fond of sweeter wines so I was concerned this may be too much for me. I was pleasantly surprised, the wine was refreshing without being too sweet and had a nice, mellow fizz to it. I did get the fruity flavors of strawberry and raspberry but couldn't quite taste the sherbet which was promised on the website's description. That could be my amateur palate though.
It's a very light wine that goes down far too easily and quickly which may or may not be a good thing. Again, I would say this wine offers both value for money without sacrificing on quality or taste.
Food Pairings
Rose wine has endless pairing possibilities and would likely work well with most dishes, at least for me anyway. Summer inspired dishes are the best especially those with tomatoes, olives, cured meats and plenty of garlic. I also find it pairs well with spicy foods such as Indian curries. Alternatively, stick to simple light dishes such as grilled chicken or salmon.
Be sure to give [yellow tail] Pink Moscato a try if you're a fan of rose and keep it real!
Thanks for reading.
Image by krossbow used under Creative Commons License.
This installment of Cheap Wine Finds was written by Allison Turner.