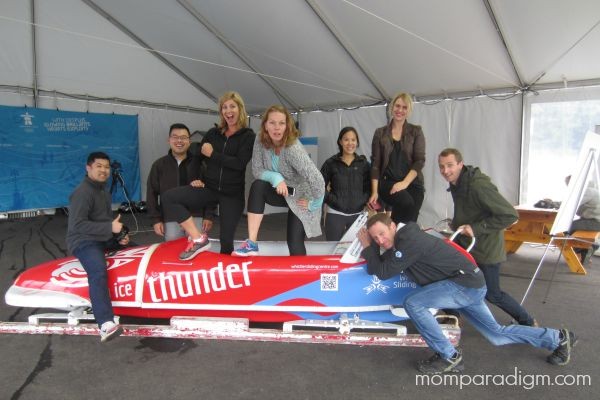 Do you have a bucket list?
When you think of bucket lists do you think big, scary adrenaline rush type stuff? Do you think bungee jumping, skydiving, or subjecting yourself to ice cold temperatures of -110 °C? So does Robin Esrock, author of bestselling book, The Great Canadian Bucket List.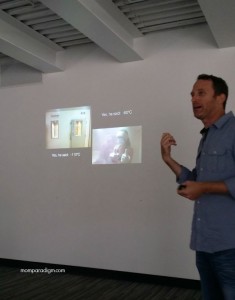 I had the opportunity to meet this father of one and travel writer/adventure seeker just over a week ago when Ford Canada invited me and a few other local bloggers to join him and cross something off our bucket lists.
I didn't know it at the time but this bucket list item is exactly one that I've always wanted to do but never thought it possible.
I knew nothing going in but I was up for the challenge. I had been on an adventure with Ford Canada earlier this year and it was quite a memorable experience. Remember this monster of a fish we caught? That was a rush! But that fishing expedition didn't prepare me for what I was about to experience.
The day before the big day I discovered that our #BucketListYVR experience was bobsleighing at the Whistler Sliding Centre. Yes that's right! It's the same track on which Canada won both gold and silver medals in 2 Woman Bob Sleigh at the 2010 Olympics. It is also the fastest and steepest track there is.
To say I was nervous was an understatement but deep down I was bursting with excitement.
Since I've become a mother I noticed that I've shied away from my previous risk taking behaviour. You start thinking about what would happen to your littles if you should depart the earth earlier than expected. But now that I'm mostly over the sleep deprivation and the resultant clumsiness that goes with, my head is a bit clearer and I think I'm ready to embrace the wilder side of me. With a certain amount of preparation and planning of course.
I needed to prepare myself mentally like any Olympic athlete would so I watched Rick Mercer experience the bobsleigh in winter to really get a feel for the experience and the track.
It didn't help me feel any better. Faaaaack! I was in trouble!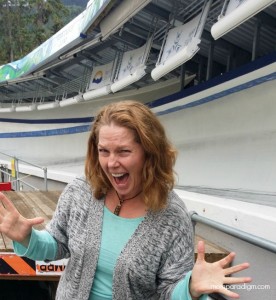 The Drive up with Ford
I drove up to Whistler with James from Hello Vancity in a gorgeous Ford Escape SE and spent the time gabbing about our various adventures in blogging. We talked a bit about bobsleighing but because neither of us had been we didn't really know what to expect so not much was said.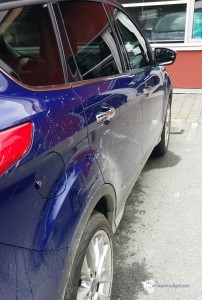 After a brief 'lost in the woods' adventure in which we got our car only slightly dirty, we met up with our group at the Whistler Sliding Centre where we had a nice lunch and listened to Robin tell us about some of his crazy adventures. You can find the entire list of them in his book of which we alll got signed copies.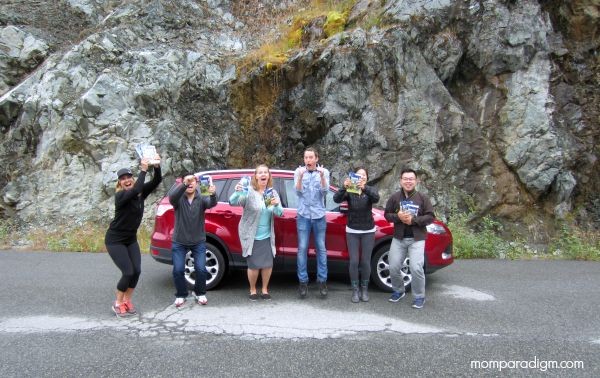 Afterwards we went down to Guest Services where Snowy, our safety guy/competitive bobsleigher/track maintenance guru and all round funny guy got us all psyched up for the ride to come.
Here's what we were told to expect:
G-forces between 2 and 6 (up to six times your own weight crushing you). It could cause you to black out if you hold your breath.
No ice in summertime. The sleighs have been specially designed with wheels AND seatbelts for safety.
A lot of head bobbing and the occasional bump of helmets.
So far there hasn't been an accident on the track in summer but just so we were prepared we practiced the crash position. (Shoulders up, head tucked)
Speeds up to 90km/hr and less than one minute to finish the track.
Rolling Thunder
The world's fastest track aptly named Rolling Thunder did not disappoint. It was definitely a rush, however I felt Snowy may have over prepared us in the safety orientation as I think some of us were pretty scared coming out of the orientation. Or maybe that was part of the excitement, I'll never know.
It wasn't nearly as scary as I expected and I didn't feel like my stomach was in my throat. We all got to go on two runs if we wanted. In the first run I sat up front and enjoyed the leg room and the view. You get a clearer sense of the danger and exhilaration when you're being thrown down that track. Of course I was holding on tighter that a toddler with a fistful of smarties but was able to relax a bit on the second run. The second run was a very different experience and you learn quickly how important it is to lean into the turns so you don't smack your helmets together.
My team Squishy Faced Bloggers (the helmets were snug hence the squishy) hit a top speed of 91.49 km/hr and finished in just over 53 seconds after two runs. We beat the Bucket List Bob team due to the outstanding skills of Caine our driver, but secretly I think it's because we are all natural born bobsleighers and future Olympians. Next time I watch bobsleigh on TV I'll have a first hand experience to appreciate the danger.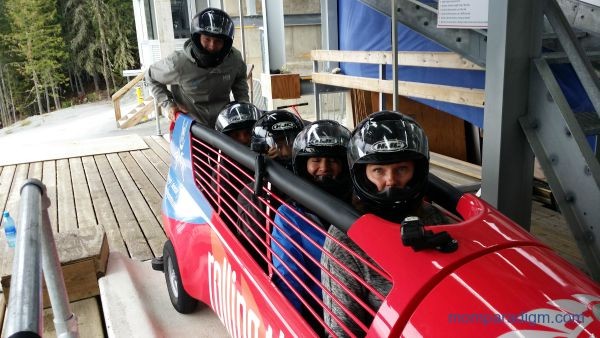 Do you have a bucket list?
I've still got quite a few things on my bucket list, like travelling to Iceland to sit in hot springs in the middle of winter, and of course bobsleighing in winter! It's a faster, more adrenaline junkie rush type of ride for sure what with it being all slick with ice that is lovingly cared for by guys like Snowy. You can make reservations ahead and if you book in a group you can get a sweet deal. Check it out HERE.
Follow The Whister Sliding Centre on Twitter and Instagram with the hashtag #BucketListYVR. And you can visit their Facebook page too, of course! Thank you Ford Canada for inviting me to the Whistler Sliding Centre to cross bobsleighing off my list. I had the time of my life!
The Whistler Sliding Centre
The Whistler Sliding Centre is open five days a week, all year round. For more infomation, click HERE.
I was not compensated for writing this post but I was treated to an amazing #BucketListYVR experience! All opinions are my own.