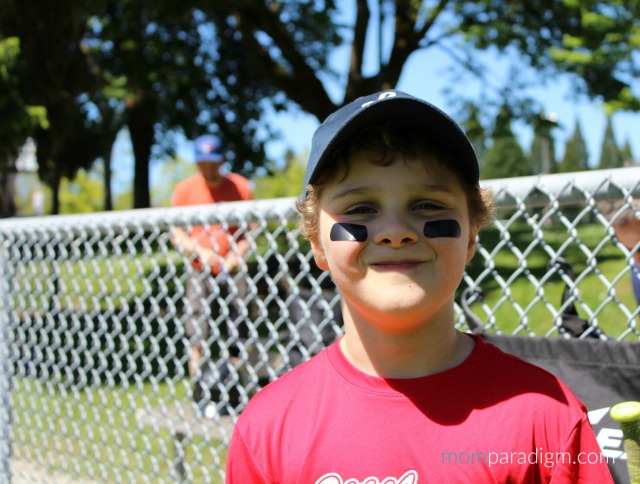 I was about to start work on a mini website project for a friend when I came across this photo taken last Saturday. My heart stopped for a second as I realized I've not shared what's been going on over here in so long. This is BIG, people!
My Boy Plays Little League Baseball
And if ever there was a reason to start writing again, it is this. My boy, my 7-year old sweet boy decided to play little league baseball this year. Oh my heart…
You see, it's been this mama's dream for him to play the sport I adore. Ever since he was old enough to hold a bat, I desperately wished he would pick up the game but it wasn't until this year that he made the decision for himself.
I could hardly believe it when he told me because I've wished for this moment every spring for the past 4 years.
My Heart is Exploding
Okay watch out, here come the tears. (As I write this I am welling up because it just means so much)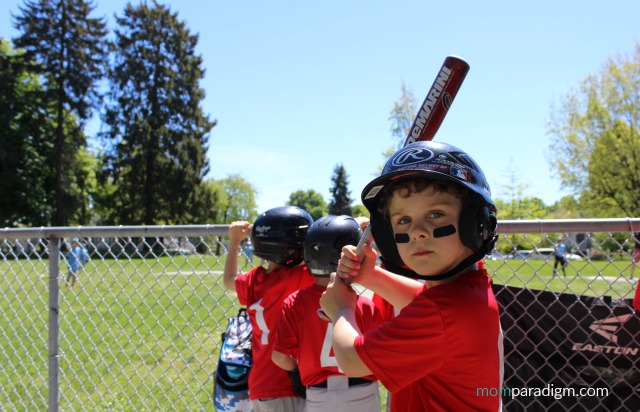 Not only is he playing but my boy, my little love, loves playing baseball (and apparently takes it very seriously as seen in the photo).
And even though he and most of the kids on his little league team don't really know what's going on, or if they do it's hard to execute in their fast-growing and awkwardly clumsy bodies, it's a humbling experience to be there, on the sidelines, scorekeeper book in hand, (coaching will happen one day!) watching these little people figure out this wonderful game.
Okay, done crying now.
Jersey #12
I still remember back to the first year I played when I was just eleven. My Coach (rest in peace, Sharon, you are missed) asked me what number I wanted on my jersey. I chose 12.
Twelve years old was what I would be in a few shorts months that season so it made sense then. It was a significant year in my young life, one that would ignite a love for the game that I continued to play every year for the next 28 years.
I was pretty good at it too but never got serious enough to pursue anything remotely advanced. There weren't the opportunities for girls in sport back then.
But I loved it anyway and played with amazing folks along the way and still remain good friends. Whether it was playing fastball with my mom's team (she pitched, so fun to watch) or an all girls team or co-ed slo-pitch, it didn't matter. What mattered was the comradery, the team spirit and the bonding the game offered all of us.
Being a spectator is about all I can come up nowadays as the days of playing my beloved sport ended with a gut-splitting stretch on 1st base a decade ago. A ripped hamstring and messed up hip ended it all. I got the guy out though, so at least it wasn't for nothing.
Jersey #6
I don't know why OLM picked jersey number #6 but maybe one day I figure out its significance. It is half of 12, (my number) so there must be something to it. Pitcher Marcus Stroman of the Blue Jays wears #6 and plays in the 6, the nickname given to Toronto, if you didn't know.
OLM thinks he wants to be a pitcher but as there are no real pitchers in his league (a sort-of manual pitching machine is used) I'm not sure he knows what that means.
We'll have to wait and see.
There is nothing in my mind that brings people together better that team sports. I know that my son will find his tribe and I hope it is while playing a sport he loves AND of course, I hope that sport is baseball.
(I'm such a mush, right?)
Are your kids living a dream you have for them? I'd love to hear about it in the comments.