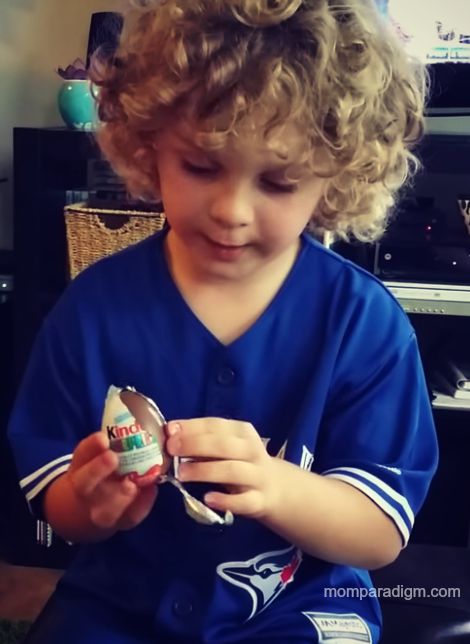 Every time I ask my son if he wants a treat (make no mistake he's usually the one asking) he always wants a chocolate egg surprise. Last night was no exception.
We are watching the Blue Jays trample the Rangers and after Encarnacion hit a grand slam to make it 10 to 2 it seemed like a great time to celebrate! And because I usually keep a few KINDER® surprises it was the perfect opportunity to treat our little man to something fun.
I took a video of his unwrapping his treat but unfortunately I wish we had another KINDER® SURPRISE® to do another take. He's had so many chocolate eggs in his life that he's bound to get a toy he's already gotten. And because he's 5, well, when he's not impressed he makes no bones about it. He was not impressed.
He still loves his chocolate egg treat despite him seeming ungrateful. I took it a bit personally as I sometimes do, but daddy saved the day by creating a bit of fun out of it. I wish I'd taken video of that moment and of me eating humble pie. Sigh…Anyway who said anything about being perfect?
Do your kids love KINDER® SURPRISE® too?
If you're on Instagram you can share any of your shots featuring KINDER® SURPRISE® eggs! Post them and tag #KINDER on Instagram!
If you're in the Toronto there is a ton of KINDER® fun at the Canadian National Exhibition again this year because they are the Kids' World presenting partner! And that means there'll be KINDER® SURPRISE® fun happening every day from August 21 to September 7. The KINDER® Smile Booth will be up and running, and we can't even guess how many thousands of free KINDER® SURPRISE® eggs and resulting #kindersmiles we'll hand out this year. So pop over and visit the booth, and share your photos and videos with your social networks.
DISCLAIMER DISCLOSURE: I'm a #KinderMom who is part of the KINDER® Canada influencer team; as part of my affiliation with KINDER® Canada, I am provided with special perks and products. All thoughts and opinions are my own.