It's been a long time since I read Alias Grace, the award-winning historical novel by Margaret Atwood, nearly 20 years in fact. So when I saw that it was coming to CBC and Netflix I was a tad excited. Of course, I will reread it too as I've been steadily reading one novel a month in an attempt to not only cut down on TV but as a way to help me relax and sleep better.
But this. This I can't resist. Alias Grace as a new binge-able mini-series? Hells to the yeah!
Save the date: September 25th, 2017
Alias Grace is now a 6-part mini series
Alias Grace is based on the life of Irish immigrant Grace Marks who was convicted of killing Thomas Kinnear, her employer, his housekeeper and lover in Canada in 1843 and has been sentenced to life in prison.
Aside from wondering whether Grace actually killed them, Alias Grace delves into issues of gender and female subjugation through the lens of class and equality and the treatment of women with mental illness. And while these issues were of great importance back when I first read the book, they are even more so what with all the nonsense going on around the world; (read: orange, clown, freak, creep, scary to the south) in no particular order.
And I suppose now that Hulu nailed it with the Handmaid's Tale it was time that Netflix got in on the action. So it comes as no surprise that Alias Grace, also written by Atwood, would be next on the list.
Have you read Alias Grace? If you haven't, you get a copy on my Amazon Store. It'll make great summer reading!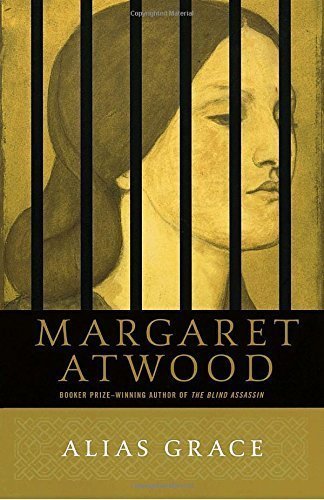 Margaret Atwood tweeted this about the series too.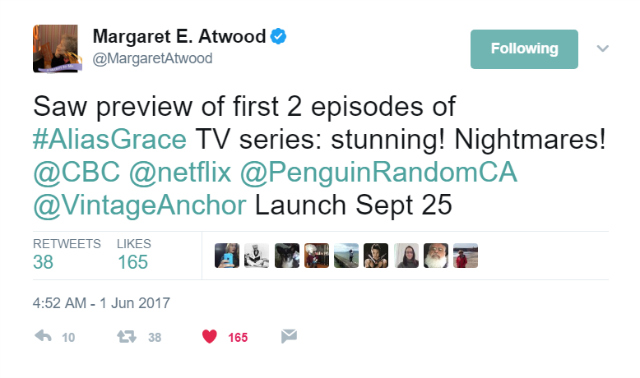 I think she might be a tad proud. I don't blame her as the trailer really looks amazing. If you didn't click on it above, go on then…
More About Alias Grace
Based on the award-winning novel by Margaret Atwood and inspired by true events, ALIAS GRACE is written and produced by Sarah Polley (Take This Waltz, Away from Her) and directed by Mary Harron (American Psycho, I Shot Andy Warhol). The six-hour miniseries tells the story of Grace Marks (Sarah Gadon Indignation, 11.22.63), a young, poor Irish immigrant and domestic servant in Upper Canada who — along with stable hand James McDermott (Kerr Logan Game of Thrones, London Irish) — finds herself accused and convicted of the infamous 1843 murders of her employer, wealthy farmer Thomas Kinnear (Paul Gross Hyena Road, Due South), and his housekeeper, Nancy Montgomery (Anna Paquin True Blood, Bellevue) and David Cronenberg.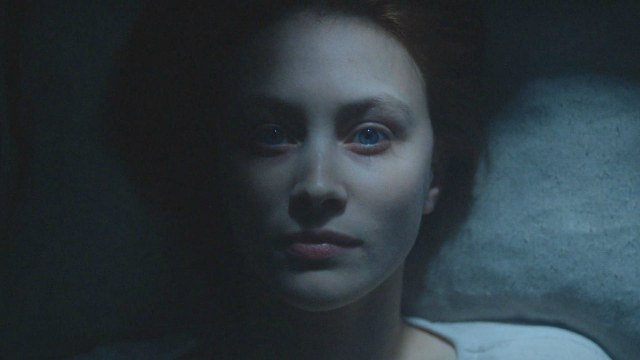 Will you be watching Alias Grace on CBC or on Netflix? I'd love to know. Tell me in the comments!
For more information on Alias Grace go to CBC.ca and Netflix.com.
Disclaimer: I was compensated for this post but like always, I only share what I believe in. I can't wait for this series! Mark your calendars on September 25th for the Premiere on CBC.