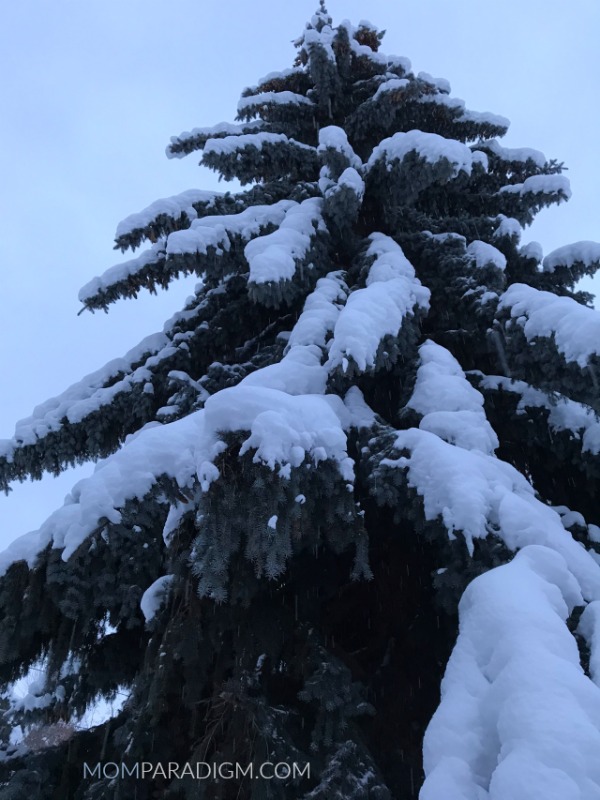 We are officially stuck in the proverbial frozen pickle.
If you didn't know already, (read my last post here) we braved the weather and the Coquihalla highway to spend Christmas with family 405 kilometres northeast of Vancouver, BC. While that may sound like a heavenly getaway in the midst of winter, and it is if you are prepared for a wintery wonderland, sadly it is turning out to be anything but.
We woke up to a monster (note Vancouverite perspective) blanket of snow over the city which is gorgeous and certainly unlike what we get in Vancouver at this time of year. It's exciting to imagine all the wintery things we can do until reality sets in. We are leaving tomorrow. And there is a storm. And we are stuck in it.
If you live anywhere in Canada you'll know that except for Vancouver, the entire country has been notified of an extreme weather system bringing with it frigid cold and plunging temperatures.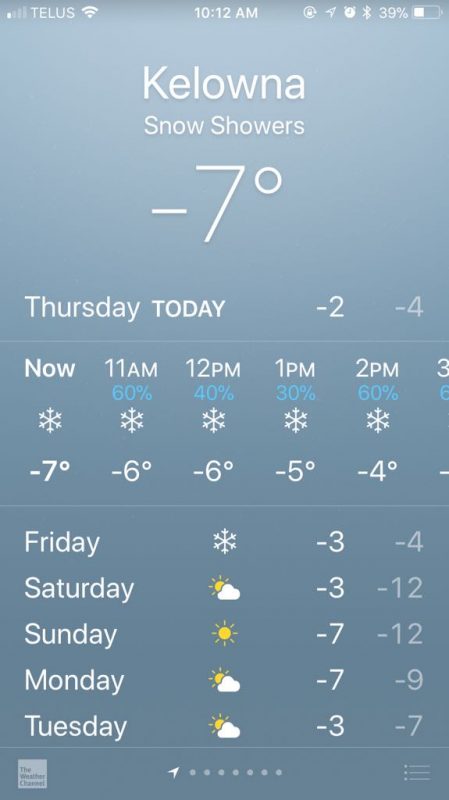 It is currently -7°C in Kelowna, which is mild compared to most other places in Canada, except for balmy Vancouver where currently it is +3°C and cloudy.
The weather forecast in Kelowna is predicting snow 'showers'? What does that even mean? Anyway, all we know is the Coquihalla is a right mess right now.
So how much snow are they calling for, you ask? Somewhere between a lot and holy f*ck.
We are not getting on that highway until the snow is cleared. On our way up here we saw a number of crashes, including one truck and trailer flipped on its side, the occupants unhurt thankfully, but shivering in the cold waiting for goddess knows how long. Nope, no way.
Thankfully, the Serious One is a teacher so we have some time to wait. So, as they say, when it snows make snow cones or coffee with Bailey's in it, we're bunking down for a couple more days.
So Not Prepared
Not being prepared has its drawbacks and pluses. We were only supposed to be here for three nights which made packing easy breezy and nonchalant as all f*ck for this mama. Unfortunately, my neglect didn't run so deep as to forget snow pants and the like for OLM, however I neglected to bring more than one pair of pants for myself and no pjs. I am without hair products and moisturizer heavy enough to deal with cracking skin sure to ensue from this frigid white mess.
But rather than curl up into a ball and wait it out, (who can do that anyway with a seven year old on the hunt for something to do every freaken second although right now he's watching Daniel Tiger and I'm in heaven) I thought I would share with you what to do when you're stuck in a snow storm in Kelowna and can't get home to your own bed.
9 things to do when you're stuck in a snow storm
Go skating at Stewart Park outdoor ice rink.
Go shopping in one of the many, many strip malls along the highway and take advantage of winter blowout sales. Seriously, you can drive for miles and miles and spend all of the money. I got pants and a warm jacket, pjs and wooley socks for half price. Woot!
Go to see a movie: Star Wars ~ The Last Jedi (gag) or Ferdinand is playing at Landmark Cinemas
Take in a Kelowna Rockets hockey game ~ Last night's game ended with a shootout win
Eat sushi at Momo ~ Seriously, they have the best sushi in town
Drink Bailey's in your hotel room while your son bathes in the deep, deep tub.
Teach your sis-in-law's Boxer to be a sled dog.
Take photos of the mess (We've yet to leave the hotel room this morning so I'll post more snow photos later)
Cry and drink more Bailey's
Parking is free in downtown Kelowna this Saturday, people. I would never have known that had we been leaving tomorrow, (Friday). What a nice thing to do for all us stranded here.
So go on, check out Downtown Kelowna's events page for more info. Of course if you're not stuck in Kelowna with us amidst this horrific weather then don't bother.
These activities will make getting stuck in that #BCStorm great. #winter #Iwanttogohome #Iwantostay
Click To Tweet
How are you dealing with the snow storm on your holiday travels or in your home town?