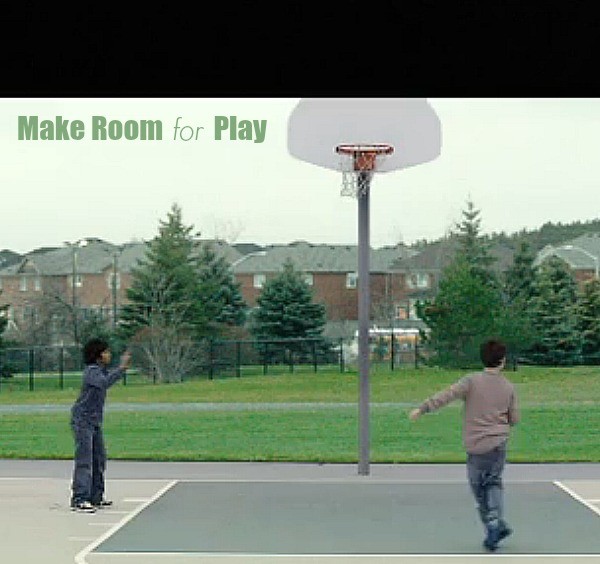 We all do it don't we?
I admit, I do. In fact in a recent post I told you what I did to get more sleep even though it was a gorgeous Spring day. And while I admit plugging our son in isn't ideal, it's certainly not the worst thing I could do. Still, there's a certain amount of mom guilt that comes with putting my needs first.
The thing is, when this mom is tired I'm no good to anyone. So, catching a few more zzz's meant we could enjoy the rest of the day. As it turns out however, OLM was fighting a cold and he was quite content to stay inside while mama slept.
Having said all that, when we have days like this I make sure to make up for it with lots of outside play. And if you've been reading this blog you know that making room for play is high priority for me especially because it is so easy to get distracted working from home like I do. And being as tired as I am. Almost ALL. THE. TIME.
So we go out on plenty of adventures. We've recently walked 11,000 steps together to go find a book I've been wanting to read. We are also blessed with a pretty awesome playground right in our courtyard that all the kids in the building gather at and play together for hours. I'd love to play basketball together one day but right now he wants me to pick him up to put the ball in the basket. I need to work on my biceps more for that as he's getting so big!
I've caught a few of these ads on TV from Participaction.com and I have to say they really made an impact. This is surprising considering I usually ignore most ads on TV. Have a look for yourself and tell me what you think. (video is unavailable at this time.)
Make Room for Play
Tips to balance screen time with active play time
Avoid making television watching part of your regular daily routine. We only watch TV at night, after our son goes to bed. And sports! Go Canucks! Go Jays!
Make family rules that limit how much screen time your kids are allowed each day. CHECK!
Eliminate background TV as it's likely to draw your child's attention. Instead, turn on music. CHECK!
Kids naturally play more actively when they're outdoors, so head outside with them every day. CHECK!
Set a good example and limit your own screen time.
Unplug for a day. Designate one day a week or month as a screen-free day for the whole family.
For younger children, avoid using screens as an "electronic babysitter". MOSTLY CHECK!
For older children, after-school is a key timeslot for activities, so register them in active after-school programs in the community. We will be doing this in September when OLM goes to kindergarten.
For older children, don't allow a TV, computer, or cell phone in your child's bedroom. CHECK!
For older children, explain to them that decreased screen time is not a punishment, but a healthy choice. CHECK!
Looking at this list it is clear that there are improvements to be made. So we'll work on it. Because we do need to make room for play and if this weather holds up it will be so much easier!
[Tweet "Yes! Today I will turn off the TV and #MakeRoomForPlay"]
Did you know?
In a recent survey commissioned by ParticipACTION, almost three quarters (74%) of parents with children aged 12 and under agree that they have used a screen to occupy their children when they are busy, trying to get things done or want some quiet time.
In a recent survey commissioned by ParticipACTION, 87% of parents of children aged 12 and under plan to make physical activity a priority for their children in the new year.
Visit www.participACTION.com for downloadable tools and resources to enable others to reduce screen time and make room for active play at home, at school, or in the community.
Make Room for Play
Join the conversation on Facebook and Twitter with the hashtag #MakeRoomForPlay